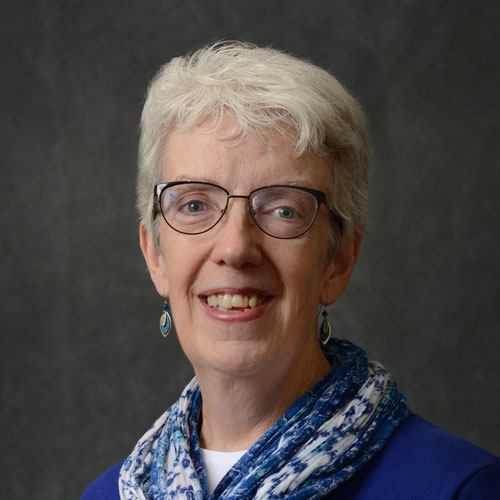 Kathleen Quinlivan
Communications Officer
Pronouns: she / hers / ours
222 Capen Hall, North Campus
Buffalo, NY 14260

kquin@buffalo.edu
Department Liaison
University Communications
Responsibilities
I am a member of the University Libraries' Communications Team. Our team develops digital and print initiatives to promote UB Libraries'collections and services, both digital and print, to our campus and community partners.
I am the editor of UB Libraries Today, a semi-annual print publication for UB students, faculty, staff, alumni, donors and friends (2010-present).
I collaborate with the Libraries' liaison in the Office of University Communications to write, edit and proofread media releases and other print pieces.
Education and Training
MLS, University at Buffalo, SUNY
BA, (English, cum laude) Buffalo State College, SUNY
International Summer School, University College, Dublin, Ireland (course work in Irish literature, history and culture)
Employment
University at Buffalo, SUNY
Buffalo & Eerie County Historical Society field archivist)
Canisius College, Andrew L. Bouwhuis Library (reference librarian/evening-weekend supervisor)(
Hilbert College, McGrath Library (public services librarian)
Buffalo State College (grant-funded project administrator)
Awards and Honors
Beta Phi Mu - Beta Delta Chapter
Chapter president, 1990-91
Chapter vice-president, 1989-90
Publications
Gumshoes, Sleuths and Snoopers database featuring selected titles and cover art from the George Kelley Collection of Paperback and Pulp Fiction (2005).
"Tips for Part-Time Librarians," in The Whole Library Handbook 3, comp. by George M. Eberhart. Chicago: American Library Association, 2000, pp. 95-96. Co-author with Linda Herman and Anne Huberman.
Prostitution: A Guide to Sources, 1960-1990, Vern L. Bullough and Lilli Sentz, eds. NY: Garland Publishing, Inc., 1992, pp. 197-234. (Assisted with the preparation of entries for this annotated bibliography).
"Flashback". Occasional contributor to a weekly column in the UB Reporter, 2009-2012. Selected entries:
Digital Collection Features Vintage BISON Covers (2012)
First Meeting of UB Women's Club (2011)
Curriculum of Social Work Established (2010)
A New Home for UB Law ((2009)
UB China MBA Program (2009)
Professional Memberships
American Library Association, 1998-2018
SUNY Librarians Association, 2000-2018
Association of College and Research Libraries, WNY/Ontario Chapter, 1994-1998
Association of Part-Time Librarians, 1988-1995
Presentations
"Library Live: Alumni-Focused Webinars for Instruction & Development." Co-presenter with Cindi Tysick, Library Communications Conference, Mt. Laurel, NJ, October 6, 2014.
"The Pulps." Co-presenter with George Kelley, Bouchercon World Mystery Convention, Chicago, IL, September 3, 2005.
"Be Kind - Unwind: Stress Relief @ Your Library." Panel presentation, SUNY Librarians Association annual conference, Buffalo State College, Buffalo, NY, June 13, 2013.
"Have Exhibit, Will Travel." Co-presenter with Judy Adams-Volpe, SUNY Librarians Annual Conference, State University College at Cortland, Cortland, NY, May 26, 2004.
"Gumshoes, Pulp and Ziploc Baggies." Panel presentation, SUNY Librarians Association annual conference, State University College at Brockport, Brockport, NY, June 26, 2000.