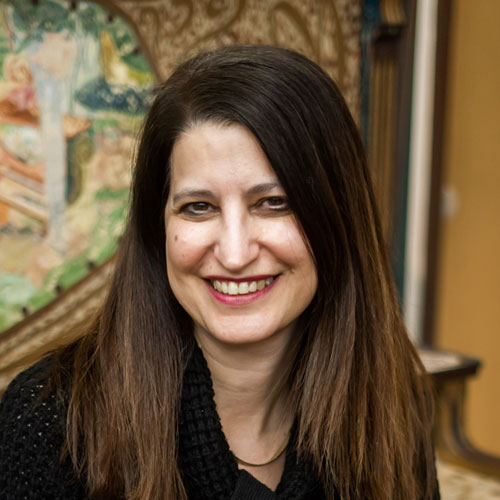 Laura Taddeo
Head, Arts, Humanities and Social Sciences Team
Pronouns: she, her, hers
421 Lockwood Memorial Library, North Campus
Buffalo, NY 14260

ltaddeo@buffalo.edu
Department Liaison
English
Responsibilities
Head of the Arts, Humanities, and Social Sciences Team; Collections Coordinator for Arts, Humanities, and Social Sciences; Library Liaison to the English Department; Collections, research, and instructional support; General and specialized research support (in-person and virtual) via appointments and Instant Librarian.
Education and Training
MLS, University at Buffalo
BA, English Literature (Major), Film Studies (Minor), University of Rochester
Awards and Honors
Recipient of 2012 SUNY Chancellor Award for Excellence in Librarianship
Publications
Contributions to Books (Refereed)
Accepted for Publication: "Talmud and Philosophy" Co-written with Sergey Dolgopolski, Oxford Bibliographies Online, Oxford University Press, anticipated publication spring 2021.
"The Changing Nature of the Book: Literary Research, Cultural Studies, and the Digital Age," co-written with Austin Booth. In Teaching Literary Research: Challenges in a Changing Environment: ACRL Publications in Librarianship #60: 197-233, June 2009.
Bibliographer for British Literature Section, Resources for College Libraries (RCL). New Providence, N.J.: R.R. Bowker; [Chicago, Ill.]: American Library Association, 2006. (Bibliographer for Jane Austen, John Galsworthy and Anthony Trollope). Print and online editions.
---
Journal Articles (Refereed)
"R U There? How to Reach a Virtual Audience through Affordable Marketing Strategies." Internet Reference Services Quarterly, 13, no. 2 (2008): 227-44.
"The Nuts, Bolts, and Teaching Opportunities of Real-Time Reference". Co-written with Jill Hackenberg, College & Undergraduate Libraries, Volume 13, Issue 3 (2006):63-85.
"Information Access Post September 11: What Librarians Need to Know." Library Philosophy and Practice, Volume 8, no.4 (Fall 2006).
---
Book Reviews
"The Virtual Reference Experience: Integrating Theory into Practice", Journal of the American Society of Information Science & Technology (JASIST), April 2006, Volume 57, Issue 6, Pages 843 - 844.
"Internet Yellow Pages,""Internet Reference Services Quarterly, 2005, Volume 10, Number 1.
"TechTV Leo Laporte's 2003 Technology Almanac,"Internet Reference Services Quarterly,2003, Volume 8, Number 3.
---
Professional Contributions
Chair, Association of College & Research Libraries (ACRL)/Literatures in English Section (LES), (2014-15).
Vice-Chair/Chair-Elect ACRL/LES (2013-14); ACRL/LES Secretary (2012-13).
---
Editorial Activities
Newsletter Editor, Biblio-Notes, Newsletter published by the Literatures in English Section (LES), ACRL, June 2006-2010.
Professional Memberships
American Libraries Association
Modern Language Association
Presentations
"Early English Books at Your Fingertips: How Digital Primary Collections Can Change Research and Revitalize a Library." The Text Creation Partnership (TCP) Conference: Bringing Text Alive: The Future of Scholarship, Pedagogy, and Electronic Publication, University of Michigan, September 16, 2006.

"Marketing Instant Librarian at UB," co-presenter on a panel titled "R U There, PPL? "Revving Virtual Reference, NYLA Annual Conference, Libraries: Cornerstone of the Empire State,October 26 - 29, 2005, Buffalo, New York.