Recording Studios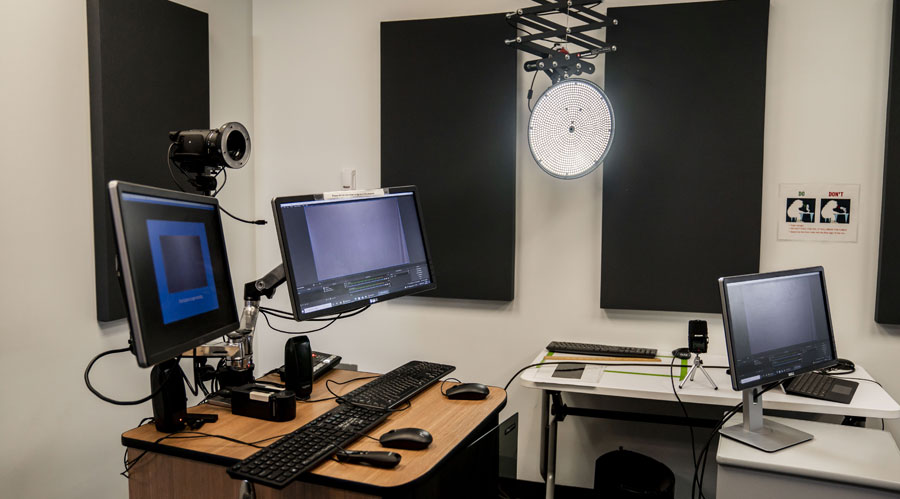 Whether you're creating full-length video presentations or a podcast, our Recording Studios in Silverman Library make the process fast and easy.
Recording Studios are great for:
Rehearsing for class presentations
Presenting research papers, competition entries, thesis or dissertation defenses
Creating videos for online instruction
Creating ePortfolio materials or video essays
Recording mock interviews (class required, internship or job interviews) or patient interactions
Green screen effects
Podcasting (live or recorded)
Voice over PowerPoints
Panopto recordings
Slate CRM
Zoom and other live streaming needs
Foley/Sound design and effects recording
Recording live acoustical instruments and electronic devices (guitar, bass, percussion, synthesizer) with special consultation with Omar Brown
---
---
Live Green Screen Recording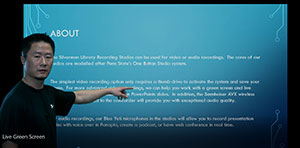 Record yourself in front of the green screen and our equipment will splice any media into the background on the fly. Presentation slides, videos, still images, input from another camera, it is all possible. Multiple inputs also allow you to switch over to another laptop or camera with the press of a button. Need to expound on a slide? Switch over to the whiteboard camera and you can write it all out. Recording with a live green screen cuts down on post production editing, just trim your video and you are done.
---
Hosting Your Videos
UB courses offered remotely should be hosted on Panopto and made available from UBLearns. Video editing service is available upon request at media-services@buffalo.edu.
Courses available to the public or videos officially representing the University at Buffalo must follow UB's branding guidelines when not hosted on Panopto. We can help with editing in video graphics upon request.
---
Video Recording Options
The Recording Studios can be used for video or audio recordings. The core of our studios is modelled after Penn State's One Button Studio system.
The simplest video recording option only requires a thumb drive to activate the system and to save your movie. For more advanced video recordings, we can help you work with a green screen and live record with various backgrounds. In addition, the Sennheiser AVX wireless mics that are connected to the camcorder will provide you with exceptional audio quality.
For audio recordings, our Blue Yeti microphones in the studios will allow you to record presentation slides with voice over in Panapto, create a podcast, or have web conference in real time.
The 3 video recording options in our studios:
Basic video recording of presenter in front of a PowerPoint projection or a whiteboard.
Basic video recording with green screen. Recording with presenter in front of a presentation projection and green screen enabled. The presentation file is then edited into the video in post-production for a nice clean look. Benefit of this is a finer control over the various parts of the scene. The downside is that editing could be time consuming and requires video editing experience.
Live Green Screening is recording the presenter in front of a green screen while our computer and other equipment edit in presentation slides in real time. Different video inputs can also be used - e.g. switching to another camera view with presenter writing on a whiteboard. Benefit is recordings can be done in one shoot without much editing afterwards. Downside is that the PPT is not actually on the screen behind the presenter, an addition monitor must be viewed to align everything. This option also requires addition equipment setup and the help of a University staff member at the Silverman Library.
What is required to record in the Studios?
Thumb drive with at least 8 GB of memory. No portable hard drives.
Your presentation slides.

Please make sure to name/organize your presentation file so you can easily match it to your video recording afterwards.
Clothing for green screen.
NO GREEN or shades of green.
No patterns such as stripes, checks, or tattersalls.
Nothing reflective, including jewelry.
Pocket or belt to hold wireless mic transmitter (or we can tape it to your back).
Before you arrive
Make sure you have a reservation.
Dedicate a flash drive with a minimum of 500 MB free space just for video recording work. Sharing a drive with important files like class project assignments or research papers is not recommended. 1 GB will store about 25 minutes of recording.
At the time of your reservation
No food or drink is permitted in the recording studios.
Stop at the Silverman Service Desk to verify your reservation with your UB card.
Staff will unlock the studio and go over the equipment checklist with you.
Our software will automatically save your video file to your USB drive. If there is a problem saving please contact Library staff.
All workstations reboot promptly at midnight, removing anything saved to the desktop.
---
Reserve Now