Edmund B. Hayes Hall Annex D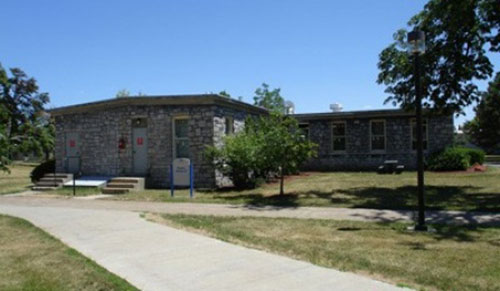 ---
Current Name:
Edmund B. Hayes Hall Annex D
Former Name:
Vivarium ( -1973)
Location:
South
---
Historical Note:
Hayes Hall Annex D is one of four buildings on UB's South Campus that was originally part of the Erie County Almshouse and Hospital (the others being Hayes Hall, Wende Hall and Townsend Hall). Hayes Hall Annex D is what remains of a complex of service buildings that included the Erie County Almshouse and Hospital's boiler room, kitchen and laundry facilities. It was connected to what are now Hayes Hall and Wende Hall by an underground tunnel.
In the 1950s, Hayes Hall Annex D was known as the Vivarium and was used for the behavioral study of animals. Dr. Albert R. Shadle of the UB Department of Biology used the Vivarium to house animals for his groundbreaking and world-renowned studies of the North American porcupine. From 1961-1969, the building was used by the Department of Psychology before turning it back over to the Department of Biology. In the 1980s, Hayes Hall Annex D was used by the School of Medicine as a nutritional laboratory.
---
Namesake:
Hayes Hall Annex D is named for its close proximity to Hayes Hall.
---
History/Chronology:
circa 1875 -- Construction on the original service building is completed
circa 1890 -- Additional service buildings are constructed creating a complex of service buildings. These include facilities for a laundry and kitchen.
1933 -- The boiler room portion of the service complex was demolished, leaving the portion of the complex that was the laundry and kitchen facilities.
1961 -- The Department of Psychology takes over occupancy of the Vivarium
1969 -- Functions of the Department of Biology are again housed in the Vivarium
1973 -- The Vivarium is redesignated Hayes Annex D
---
Original Architect:
George Metzger
Construction Cost:
$13,000
Original Size:
3,354 gross sq.ft.
---
Renovation Architect:
Jesse Porter
Facilities for a laundry and kitchen were added to the original service building