Jacobs School of Medicine and Biomedical Sciences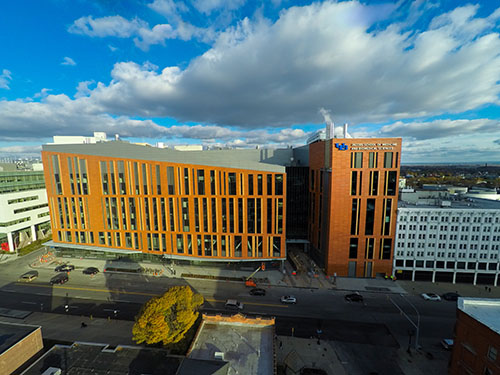 ---
Location:
Downtown
---
Historical Note:
The Jacobs School of Medicine and Biomedical Sciences is located at 955 Main Street. The state-of-the-art building was designed to promote collaborative interaction between faculty and students through active learning classrooms and open spaces called learning landscapes. One of the most notable open spaces is the seven-story atrium comprised of over 19,000 feet of glass.
The building features laboratory spaces on the third, fourth and fifth floors. The sixth floor houses the Behling Simulation Center and Clinical Competency Center, which provide students training through scripted scenarios using mannequins and volunteers. In addition to traditional facilities, the building includes surgical and robotics suites providing training in the newest medical skills. Small classrooms and study spaces are located throughout the building.
---
Namesake:
In recognition of the Jacobs family gift of $30 million and Jeremy Jacobs' tremendous service and philanthropy to the university, the medical school in 2015 was named in their honor.
---
History/Chronology:
2012 -- (May 16) Hellmuth, Obata and Kassabaum are selected as the architects for the new School of Medicine and Biomedical Sciences building
2012 -- (November 15) UB announces the purchase of the first of three parcels of land needed for the new School of Medicine and Biomedical Sciences building
2013 -- (October 13) Groundbreaking ceremony is held
2016 -- (March 22) The Topping Out Ceremony (the ceremonial placement of the final steel beam of the structure) is held
2017 -- (August) Construction completed
2017 -- (December 12) Grand Opening ceremony is held
---
Original Architect:
Hellmuth Obata and Kassabaum
Original Contractors:
LP Ciminelli
Construction Cost:
$300 million
Original Size:
665,447 gross sq. ft.