77 West Eagle Street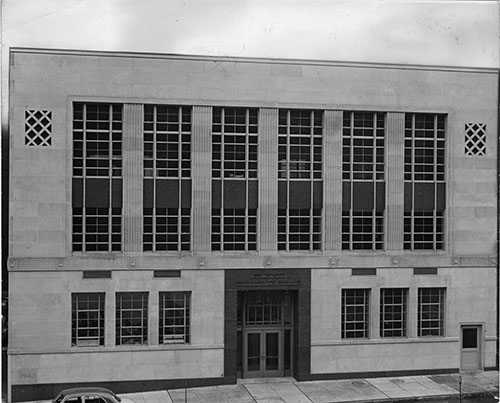 ---
Location:
Off Campus, Lost Buildings
---
Historical Note:
The UB Law School began holding classes in the building at 77 West Eagle Street in the City of Buffalo in 1917. Formerly the home of the law firm Hoyt and Spratt, the building was particularly advantageous to the Law School for its proximity to the city's court buildings. In 1920, after leasing the building for three years, the Law School exercised its option to purchase the property for $45,000. By 1946, the Law School had outgrown the original building. Rather than relocate, it was decided that the building would be torn down and a newer, larger building would be constructed in its place.
The new three story building on 77 West Eagle Street consisted of three floors. The first floor held administrative offices and classrooms, the Second floor housed faculty offices and offices of the Erie County Bar Association, and the third floor housed the law library. The basement held the student lounge and student locker rooms. This building would serve as the home of the UB Law School until 1973 when O'Brian Hall, located on UB's North Campus, was completed. 77 West Eagle Street now serves as the Supreme Court Library.
---
History/Chronology:
1917 -- The UB Law School begins leasing the building
1920 -- (January 14) The UB Law School purchases the building
1949 -- (February 17) Cornerstone laying ceremony for the new building is held
1949 -- (September 19) First classes held in the new building
1949 -- (October 21) Building dedicated. John Lord O'Brian, graduate of the Law School's Class of 1898 gives the principal address
1973 -- The Law School moves to the newly completed O'Brian Hall on UB's North Campus
---
Original Architect:
Dwane Lyman and Associates
Original Contractors:
Siegfried Construction Company Inc.
Construction Cost:
$448.550.45
Original Size:
28,000 sq. ft.