2211 Main Street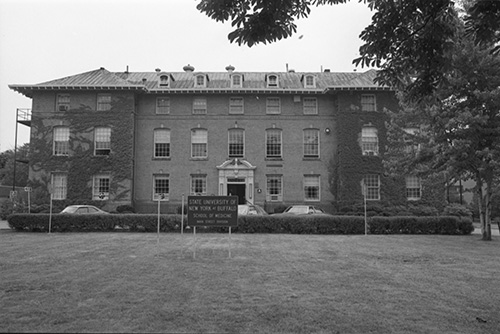 ---
Current Name:
2211 Main Street
Former Name:
U.S. Marine Hospital
Location:
Off Campus, Lost Buildings
---
Historical Note:
The building at 2211 Main Street in the City of Buffalo was constructed circa 1908 and first served as the U.S. Marine Hospital. UB purchased the building and three others on the site in 1950. The site was the home of UB's Chronic Disease Research Institute and later UB's Western New York Technology Development Center. In 1994, the site was sold to the Sisters of Charity Hospital who intended to tear the buildings down to expand off-street parking. However, due to its landmark status, the original Marine Hospital building was spared. In 1997, the building opened as Benedict House, offering residence and support services for people living with AIDS. In 2018, the building was purchased by Cazenovia Recovery Systems for use as residences and support services for people recovering from substance abuse addictions.
---
History/Chronology:
Circa 1908 -- Construction completed on the U.S. Marine Hospital
1933 -- Three additional buildings are constructed quarters for physicians, nurses and other hospital staff
1950 -- UB purchases the site as the home for its Chronic Disease Research Institute
1994 -- The site is sold to the Sisters of Charity Hospital
1997 -- The original U.S. Marine Hospital building opens as Benedict House
2018 -- The original U.S. Marine Hospital building is purchased by Cazenovia Recovery Systems