Clinical and Translational Research Center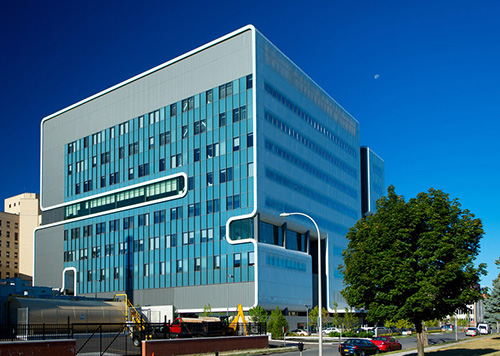 ---
Location:
Downtown
---
Historical Note:
UB's Clinical and Translational Research Center (CTRC) is located at 875 Ellicott Street in the City of Buffalo. The construction of the building was a joint effort between UB and Kaleida Health. The UB portion of the building features numerous sustainable building strategies, qualifying it for Leadership in Energy and Environmental Design (LEED) gold certification. The first four floors of the building house Kaleida Health's Gates Vascular Institute, while the top four floors are the home of the CTRC. The Jacobs Institute and UB's Biosciences Incubator are also share the building.
The CTRC focuses on translating medical research into new treatments and technologies for patients. Its portion of the building includes administrative offices, the Clinical Research Center (CRC), state of the art laboratories and support space, nine examination rooms for human subjects, a state of the art animal research facility, a biorepository and specimen processing laboratory, and an imaging facility devoted exclusively to research. The Biosciences Incubator provides laboratories, office space and startup services to companies spun off from UB medical discoveries.
---
History/Chronology:
2009 -- (August 3) Groundbreaking ceremony held
2010 -- (July 13) The Topping Off ceremony, marking the placement of the building's last steel girder, is held
2012 -- (June) Construction completed
2012 -- (September 20) Grand Opening celebration
---
Original Architect:
Cannon Design
Original Contractors:
Turner Construction and LP Ciminelli
Construction Cost:
$99 million
Original Size:
265,417 gross sq. ft.