Baird Research Park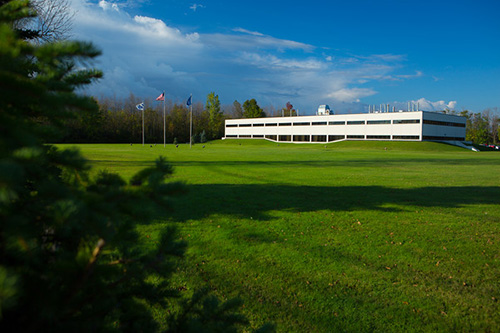 ---
Current Name:
Baird Research Park
Former Name:
University at Buffalo Foundation Incubator
Location:
Off Campus
---
Historical Note:
The Baird Research Park is located at 1576 Sweet Home Road near the North Campus of UB. At the time of the donation, the property was 17.32 acres in size. 2.379 acres of land were later sold to the New York State Department of Transportation for the construction of US Route 990.
The UB Foundation Incubator was the second of its kind initiated by UB (the first being located in the former U.S. Marine Hospital at 2211 Main Street in the City of Buffalo). When it opened, the UB Foundation Incubator was managed by the Western New York Technology Development Center (TDC), a cooperative venture between UB and the private sector. The building featured nearly 40,000 square feet of laboratories and office space. Half the structure was designated as low cost research, development and manufacturing space for use by electronic, engineering, computer and biomedical startup firms. These startup firms were given technical assistance by the TDC, whose headquarters was also in the building. More established companies that wished to be located near UB were housed in the other half of the building.
---
Namesake:
At the ceremony for the opening of the UB Foundation Incubator, UB honored William C. Baird and the Baird Foundation, whose generous gifts helped establish the Baird Research Park and UB Foundation Incubator. The Baird family's history of giving to the University at Buffalo includes substantial donations toward the construction of the Center for Tomorrow and the establishment of Baird Point. Baird Hall is named in honor of Frank B. Baird. The Baird family also has a long history of service to UB. William C. Baird served on the UB Council for forty years, ten as chair of the Council. His brother Cameron established the UB Music Department in 1951 and served as its first chair.
---
History/Chronology:
1971 -- (January 13) The Baird Foundation donates 17.32 acres of land adjacent to the North Campus to the University at Buffalo on Sweet Home Road.
1983 -- (October 11) The Baird Foundation donates $1.3 million to UB for the establishment of an independent research facility. At the time, this was the single largest gift to UB since it merged with the State University of New York in 1962.
1987 -- (August) Groundbreaking for the incubator facility
1988 -- (November 1) The University at Buffalo Foundation Incubator at the Baird Research Park opens
---
Original Architect:
John Schaflucas Architects
Original Contractors:
Frank L. Ciminelli Construction Co. Inc.
Construction Cost:
$4 million
Original Size:
38,695 gross sq. ft.