Libraries Annex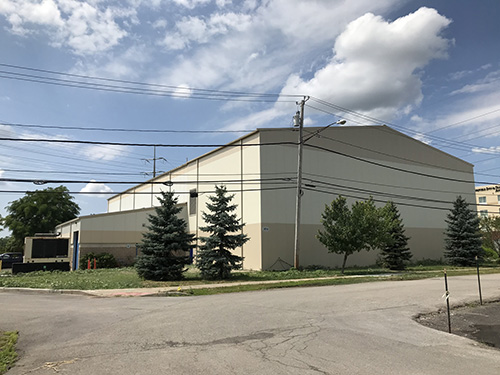 ---
Location:
Off Campus
---
Historical Note:
Located at 3850 Rensch Road, the Libraries Annex is the University Libraries' storage facility for low-use books, paper journals and other library materials. It was built to alleviate a serious lack of space in the University Libraries. The construction of the Libraries Annex and the relocation of low-use materials has allowed the University Libraries to reconfigure its facilities to meet the evolving needs of UB's students, faculty and staff.
Materials stored in the Libraries Annex are bar-coded for easy retrieval using a system modeled after one in use at Cornell University. Books and other materials stored in the Libraries Annex can be requested through the library catalog and delivered to any library for pick up by the requestor. Articles found in the Libraries Annex's collection of paper journals are scanned and sent to the requestor digitally. The facility includes a reading room equipped with a computer, printer and scanner for on-site use.
The Libraries Annex also houses the Empire Shared Collection Repository (ESCR), a collaboratively managed collection of seldom-used print serials. The repository programs provides member institutions access to the shared collection and the digital document delivery services offered by the Libraries Annex. The repository program decreases duplication of materials between member institutions and broadens access to those materials.
By October 2015, the Libraries Annex housed over 1.3 million volumes, nearly filling it to capacity. In 2018, construction began on an addition to the Libraries Annex.
---
History/Chronology:
2006 -- (November 16) Grand opening celebration held
2015 -- (October) The Libraries Annex is nearly filled to capacity, holding over 1.3 million volumes
2018 -- Construction begins on an addition to the Libraries Annex
---
Original Architect:
Carmina and Wood P.C.
Original Contractors:
Savarino Construction Service
Construction Cost:
$3.85 million
Original Size:
22,707 gross sq. ft.
---
Renovation Architect:
Trautman Associates
Renovation Contractors:
Building Innovations Group
Renovation Size:
8,000 sq. ft.