Sidney B. Pfeifer Theatre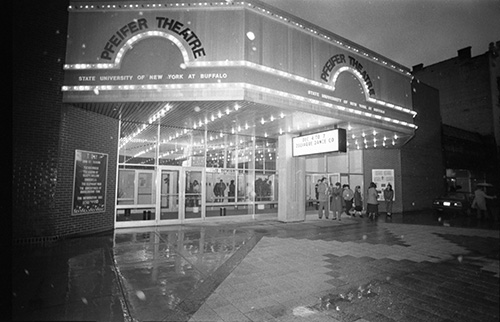 ---
Current Name:
Sidney B. Pfeifer Theatre
Former Name:
Center Theatre
Former Name:
Town Casino
Location:
Off Campus, Lost Buildings
---
Historical Note:
In 1985, with a gift from the Sidney B. Pfeifer Foundation, the University at Buffalo Foundation purchased the Center Theatre from Studio Arena Theatre for $200,000. Located at 681 Main Street, the theatre had been leased by UB for the previous seven years. Though it would be mainly used to stage productions of the UB Department of Theatre and Dance, it was also available for use by the theatre programs at Buffalo State College and the SUNY College at Fredonia, and theatre productions of local community groups.
In addition to the purchase price, the Sidney B. Pfeifer Foundation provided $125,000 for theatre renovations. The UB Foundation and UB allocated another $250,000 for renovating the theatre. Funding for ongoing operational and staff costs were provided by UB.
Prior to being the home of the Studio Arena Theatre, the Center Theatre was known as the Town Casino. Big-name performers such as Nat "King" Cole, Frank Sinatra, Milton Berle, Lena Horne and Sammie Davis, Jr. were booked to play the Town Casino.
In 2005, Artie Kwitchoff and Donny Kutzbach purchased and restored the site as a concert venue known as the Town Ballroom.
---
Namesake:
Sidney B. Pfeifer was a lawyer (UB Law School Class of 1920) and native of Buffalo who often did legal work for various theatrical enterprises. A patron of the arts, he established the Sidney B. Pfeifer Foundation in 1966 to support Buffalo Theatre. Pfeifer was a correspondent for Variety for 50 years and reported on many local shows, including those held at the Town Casino. Sidney B. Pfeifer died in 1967.
---
History/Chronology:
1948 -- The Town Casino opens as a night club and concert venue
1965 -- The Town Casino closes
1978 -- UB begins leasing the Center Theatre from Studio Arena Theatre
1985 -- UB Foundation purchases the Center Theatre from Studio Arena Theatre. The venue is renamed the Sidney B. Pfeifer Theatre
2005 -- The theatre at 681 Main Street is renovated as a concert venue and reopens as the Town Ballroom