UB Downtown Gateway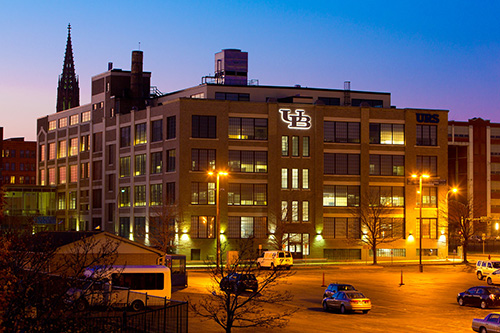 ---
Current Name:
UB Downtown Gateway
Former Name:
Century Center II
Former Name:
M. Wile Company Building
Location:
Downtown
---
Historical Note:
The UB Downtown Gateway building is located in the former M. Wile Company building at 77 Goodell Street in the City of Buffalo. The UB Downtown Gateway building is connected to the neighboring Arthur O. Eve Educational Opportunity Center by a 4,900 square foot glass atrium. Together, they form the UB Downtown Complex, the cornerstone of UB's Downtown Campus. The goal of the Downtown Gateway is to enhance the quality of life in Buffalo and the surrounding communities through greater access to UB's academic and community programs, strengths and resources.
The UB Downtown Gateway building began as the M. Wile Company Factory Building. It was architecturally significant as an example of an early 20th century "Daylight Factory." Its large windows, reinforced concrete and exposed frame construction represented a great advance in workplace fireproofing, lighting and spaciousness.
---
History/Chronology:
1924 -- (June) Construction of the original M. Wile Company building is completed
1999 -- Developer Stephen McGarvey purchased the M. Wile Company building. McGarvey transformed the building into office space as part of his Century Center II renovations
2007 -- (September) UB purchases the M. Wile Company building
---
Original Architect:
Esenwein and Johnson