Jacobs Executive Development Center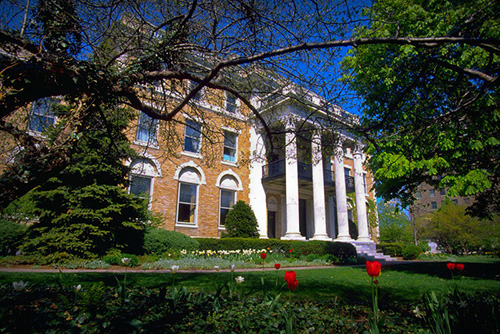 ---
Current Name:
Jacobs Executive Development Center
Former Name:
Butler Mansion
Location:
Downtown
---
Historical Note:
The mansion at 672 Delaware Avenue was built for banker and leather manufacturer George L. Williams, and later served as the home of Edward H. Butler, founder of the Buffalo Evening News. It is a three-story, Georgian Revival style, 40-room mansion. Along with an 8,000 square foot carriage house, it located on more than two acres of land in the City of Buffalo.
When it was donated to the University of Buffalo by Jeremy Jacobs, the mansion served as the home of the Jacobs Executive Development Center. The center featured a fully equipped conference room, a boardroom that could also be used as a dining room, large and small reception areas, several executive-style classrooms and meeting rooms, a state-of-the-art computer lab, office space and a working kitchen. The Jacobs Executive Development Center could be used as a venue for board meetings, business training programs and workshops, computer instruction for both individuals and large groups, corporate retreats, conferences, corporate parties, receptions and dinners.
---
Namesake:
Jeremy Jacobs is chair and CEO of Delaware North Companies, a worldwide leader in hospitality and one of the largest privately held companies in North America. He is also chair of the UB Council, an alumnus of the UB School of Management and a long-time philanthropic leader.
---
History/Chronology:
1896 -- Construction begins
1899 -- Construction completed
1905 -- The mansion is purchased by Edward H. Butler, founder of the Buffalo Evening News as a home for his family
1976 -- The Butler family donates the mansion to the Roswell Park Cancer Institute
1979 -- Jeremy Jacobs purchases the mansion for use as the headquarters for the Delaware North Companies
1991 -- The mansion is sold to the Varity Corporation
1999 -- Jeremy Jacobs reacquires the mansion, allowing UB's School of Management to use the property for executive training functions
2001 -- (May 21) UB holds a reception honoring Jeremy Jacobs for his gift of the mansion, renamed the Jacobs Executive Development Center
---
Original Architect:
Mead McKim and White Architects
Construction Cost:
$250,000
Original Size:
16,000 sq. ft. main house, 8,000 sq. ft. carriage house