Edward Goodrich Acheson Hall Annex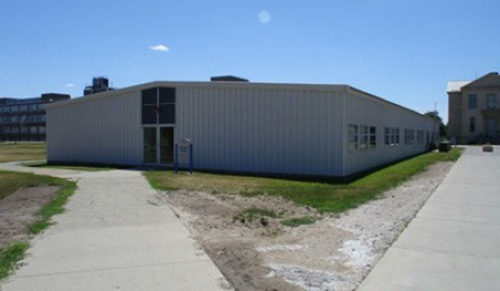 ---
Location:
South
---
Historical Note:
Acheson Hall Annex is one of a number of temporary buildings erected in 1966 to provide needed classroom space.
---
Namesake:
An inventor and industrialist, Edward Goodrich Acheson worked for Thomas Edison from 1880-1886. He developed silicon carbide and founded the Carborundum Corporation. The Acheson family and the Carborundum Charitable Foundation contributed $250,000 toward the construction of Acheson Hall (now the Pharmacy Building) built in 1959 as a hall of chemistry. Acheson Hall Annex is named for its close proximity to what was then Acheson Hall.
---
History/Chronology:
1966 -- (June) Construction on the Acheson Hall Annex was completed.
---
Original Architect:
Butler Inc.
Construction Cost:
$116,000
Original Size:
10,118 gross sq. ft.