Louise Blanchard Bethune Hall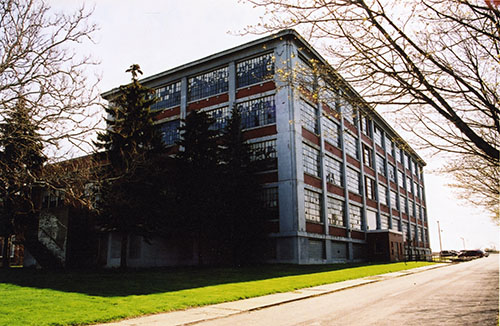 ---
Current Name:
Louise Blanchard Bethune Hall
Former Name:
Buffalo Meter Company plant
Location:
Off Campus, Lost Buildings
---
Historical Note:
Bethune Hall, 2917 Main St (at Hertel Avenue), was purchased on May 27, 1971 from Singer Company of Philadelphia for use by the University at Buffalo for the School of Architecture. The acquisition also included 5.25 acres of land with a railroad siding. UB sold Bethune Hall to the City of Buffalo in 2000. After being left vacant for several years, Bethune was again sold, and the building was renovated into loft apartments, studios and offices.
---
Namesake:
Louise Blanchard Bethune (1856-1913) was the first professional woman architect and woman fellow of the American Institute of Architecture (AIA). Bethune was buried in Forest Lawn Cemetery.
---
History/Chronology:
1915 -- The Buffalo Meter Company plant is built
1958 -- American Meter of Philadelphia acquires the property for $5.25 million.
1971 -- (May 27) University at Buffalo purchases the Meter Company for $472,000 to house the Department of Architecture, the Art Department and certain portions of the Division of Continuing Education. The building is renamed Louise Blanchard Bethune Hall.
19?? -- The Department of Architecture and Public Planning moves to Hayes Hall. The Department of Art takes over Bethune Hall.
1994 -- Department of Art moves from Bethune Hall to the Center for the Arts on North Campus.
2000 -- Bethune Hall is sold to the city of Buffalo.
2005 -- (July) Meyer Landau, a Brooklyn-based real estate investor purchases the property for $384,000
Construction Cost:
UB purchase cost $472,000
Original Size:
100,000 sq. ft. after remodeling 60,000 sq. ft.
Construction Note:
Remodeling cost $250,000-300,000