Irwin B. Clark Memorial Gymnasium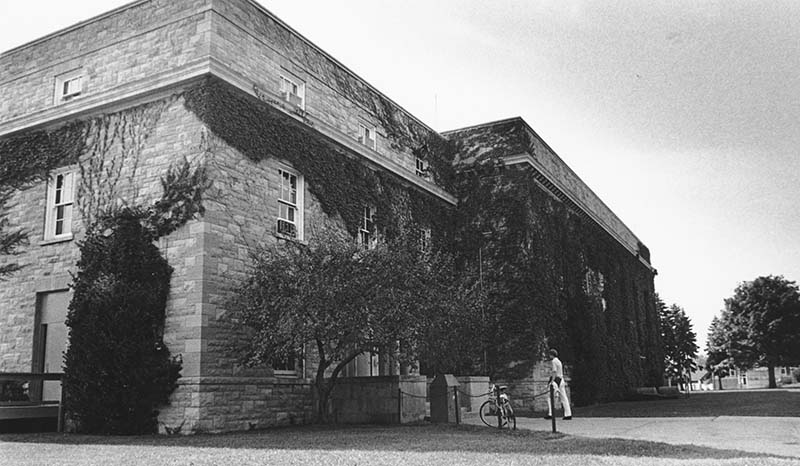 ---
Location:
South
---
Historical Note:
In 1937 when the cornerstone was laid for the future Clark Memorial Gymnasium it had been fifteen years since Foster Hall, the first new University building was dedicated. In that short amount of time, the University had grown in leaps and bounds. But a gymnasium for physical education was needed. Then the University got a generous gift for an athletic facility through the will of Evelyn Howes Clark. As Chancellor Samuel Capen said during the cornerstone ceremonies:
"This building, the cornerstone of which we have just laid, is a truly remarkable example of generosity, civic patriotism and wisdome on the part of a friend of the University whose friendship was unsuspected by any of us until her death."
In 1938 Buffalo sculptor, Charles Cary Rumsey gave the University three unique freizes he created. Rumsey was a noted artist in the second phase of the Beaux-Art sculptural style. These friezes, three large bas-relief panels which are 60 feet long, depict Greco-Roman athletes competing in Olympic sports. Racquet, equestrian and water sports, and track and field events are all represented. They were originally commissioned in 1920 for the Rice Stadium in Pelham Bay, NY, but were destroyed in 1989 when the stadium was torn down. However, a casting of the panels in plaster was bequeathed to the University in 1934 and later installed in the Gymnasium in 1938.
"In the summer of 1996, The UB Casting Institute, one of the largest institutional foundries in the United States, announced their plans to conserve and recast three large bas-relief panels produced by the late Buffalo sculptor Charles Cary Rumsey in connection with one of his last commissions". In July 2004 the panels were recast in bronze and installed near the entrance to the Alumni Arena on UB's North Campus.
Clark is currently home to the athletic and recreational facilities of the University at Buffalo's South Campus.
---
Namesake:
Irwin Brayton Clark (1861-1924) was a successful seed merchant in Buffalo. His wife, Evelyn Howe Clark, left their estate to the University in the hope of doing the greatest good for the greatest number of people.
---
History/Chronology:
1937 -- (October 9) Cornerstone ceremonies
1937 -- The University was given three panels by Buffalo sculptor Charles Cary Rumsey depicting Greco-Roman athletes. They were installed in Clark Gymnasium that year.
1938 -- (November 2) Dedication
---
Original Architect:
Edward B. Green & Son
Original Contractors:
Robert E. Williams
Construction Cost:
$375,000
Original Size:
110,626 sq. ft.