Sidney Farber Hall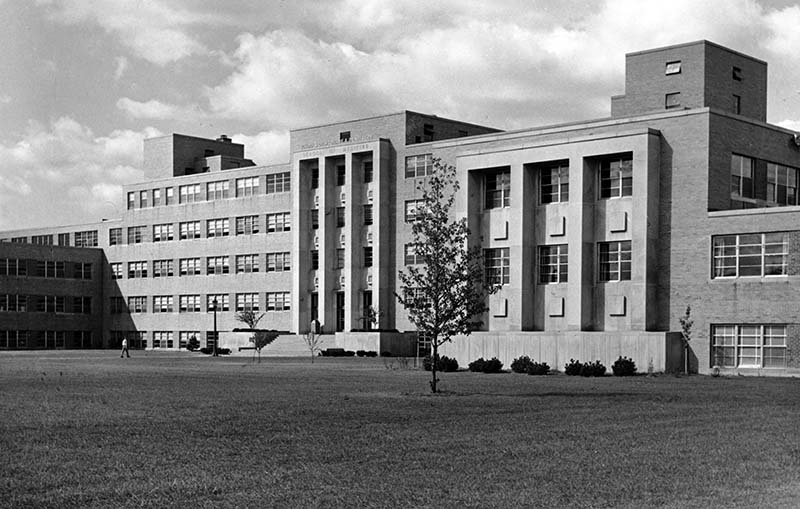 ---
Current Name:
Sidney Farber Hall
Former Name:
Medical-Dental Building (1951-1953)
Former Name:
Samuel P. Capen Hall (1953-1977)
Location:
South
---
Historical Note:
Part of the Medical-Dental sector on the University's South Campus, Farber Hall was intended to finally bring the Medical and Dental Schools together onto the University's campus. When Samuel Capen first became Chancellor in 1922, he worked with the Dean of the Dental School, Daniel Squire, to develop a dental educational program that included basic medical training. The University at Buffalo was one of the first institutions in the nation to provide this progressive type of dental training.
So by bringing the Dental and Medical Schools together into one building, the University could not only streamline the now well-established dental educational program, but also finally bring the Medical School to the "new" campus on Main Street and Bailey Avenue. For although the Medical School was the first department of the University, it was still in its 1893 facilities at 24 High Street, never having a place on the University's campus until Farber Hall was built in 1951-1953.
---
Namesake:
Sidney Farber (1904-1973) was a graduate of University of Buffalo, Class of 1923. He served on faculty of Harvard Medical School for 41 years and was a world authority on cancer in children.
Samuel Paul Capen (1878-1956) became the seventh Chancellor of the University in 1922. As chancellor he distinguished himself as the foremost authority on higher education in the United States. Known as the "Architect of UB," Capen transformed UB under his leadership from a small group of autonomous schools into a modern university of 14 divisions and a central campus.
---
History/Chronology:
1951 -- (April 6) Groundbreaking ceremony
1951 -- (June 5) Cornerstone ceremony
1953 -- (December 11) Dedication
1966 -- (September) Construction of the Farber Hall Annex is completed
1974 -- (December) Board of Trustees decides to rename building when the Capen name is officially transferred to a new North Campus administration building
1977 -- (November 11) Capen Hall was rededicated Farber Hall
---
Original Architect:
James, Meadows & Howard
Construction Cost:
$4,500,000
Original Size:
190,414 sq. ft.; addition in 1963 to School of Dentistry was 6390 sq. ft.
---
Renovation Architect:
Butler Inc.
Renovation Cost:
$279,000
Renovation Size:
5,793 gross sq. ft.
Renovation information pertains to the Faber Hall Annex