Ella Conger Goodyear Residence Hall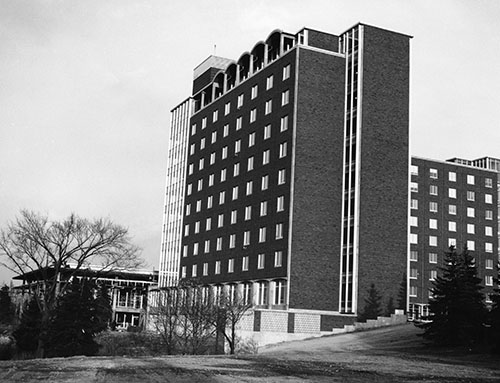 ---
Location:
South, Residences
---
Historical Note:
Goodyear Hall was originally constructed as a women's residence hall in 1960. It continues to be used as a dormitory, although it is no longer exclusively for women.
---
Namesake:
Ella Conger Goodyear (1853-1940) was known for her philanthropies and interest in the arts; mother of Gen. Anson Conger Goodyear and grandmother of George F. Goodyear; gift of $500,000 for the building was made by the Goodyear family.
---
History/Chronology:
1959 -- (October) UB gets approval for a $3 million loan for the building of a women's dormitory.
1960 -- (June) University receives $500,000 from the Goodyear family towards the University's building project.
1960 -- (October) Goodyear Hall is partially occupied by male residents after a strike delayed the building's completion.
1960 -- (October 29) Cornerstone ceremony.
1960 -- (November 19) Building completed and occupied by female residents.
1961 -- (May 6) Dedication of Goodyear Hall on UB Parents' Day.
1964 -- (September) An extension was opened.
---
Original Architect:
James, Meadows & Howard
Original Contractors:
Siegfried Construction Co.
Construction Cost:
$3,700,000
Original Size:
170,227 sq. ft.