Lewis G. Harriman Hall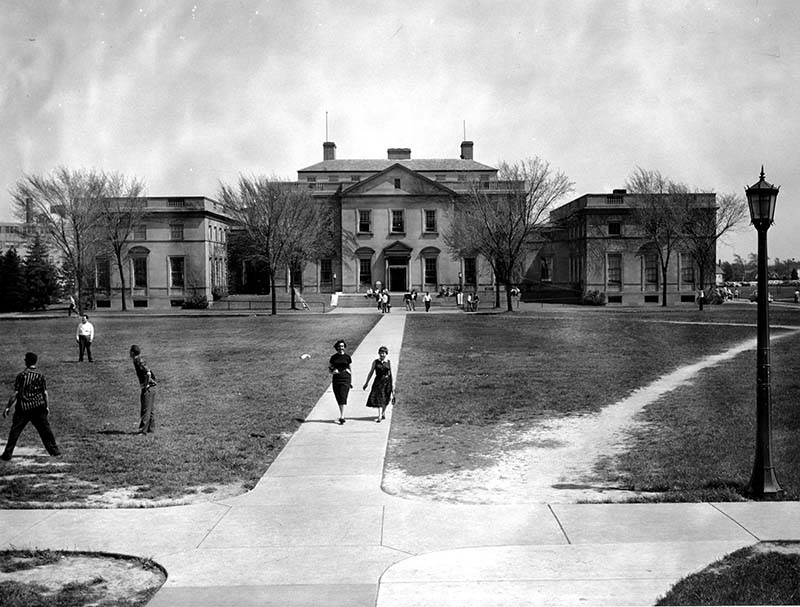 ---
Current Name:
Lewis G. Harriman Hall
Former Name:
Norton Union (1933-1962)
Location:
South
---
Historical Note:
Although Chancellor Norton did not live to see the construction of the University's first student union, the dedication ceremony of Harriman Hall reminded the community how much he fought for one. In his remarks on the former Chancellor, Philip Becker Goetz said Norton:
"...foresaw the need of social contact for young people, of the free association and companionship among inquiring minds, of the healthful influences of leisure and relazation, and of opportunities to form and maintain deep and abiding friendships. For a building to satisfy that need of closer human sympathy and understanding among the students he bequeathed to the University his entire fortune."
---
Namesake:
Lewis G. Harriman (1890-1973), former president of the Manufacturers and Traders (M&T) Trust Company, was a prominent Western New York businessman and civic leader. He also served on the University Council.
Charles Phelps Norton (1858-1923), Chancellor from 1905 until 1920, was one of the founders of the University of Buffalo Law School. He left his estate to the University on the condition that within 3 years of the probate of the will, all principal and interest be applied to the erection of a building known as Norton Hall to be used for student activities and as a meeting place.
---
History/Chronology:
1933 -- (May) Groundbreaking ceremony
1934 -- (January) Completion of building
1934 -- (February 26) Norton Hall is dedicated
1953 -- An addition which includes dining facilities is completed
1962 -- Squire Hall is dedicated as the new Norton Union and the building is renamed Harriman Hall.
1982-1983 -- After Squire Hall closed as the student union, renovations to Harriman Hall make the building more of a make-shift union for students on South Campus.
1989 -- (Fall) Renovation of Harriman Hall dining facilities
---
Original Architect:
Edward B. Green & Son
Construction Cost:
$250,000 (1933-1934); $460,000 (1953)
Original Size:
53,315 sq. ft.; dining addition, 31,210 sq. ft.