Stockton Kimball Tower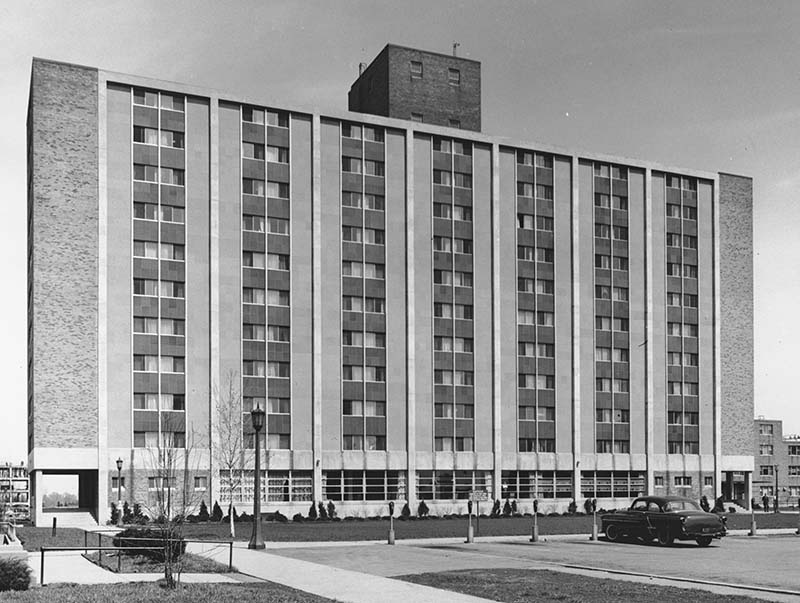 ---
Current Name:
Stockton Kimball Tower
Former Name:
Tower Hall (1957-1973)
Location:
South
---
Historical Note:
Kimball Tower was formerly one of South Campus's residence halls and home to 440 residents. It now houses Philanthropy and Alumni Engagement and the School of Public Health and Health Professions. Noteworthy in building are the murals depicting the activities of the Indian Tribes of the Iroquois Confederacy by Hugh Laidman.
---
Namesake:
Dr. Stockon Kimball (1903-1958) was a graduate of the University of Buffalo Medical School (class of 1929), a Professor of Medicine from 1933 until 1946 when he took the position of Dean of the Medical School, which he held until his death in 1958.
---
History/Chronology:
1956 -- (May) Groundbreaking ceremony
1956 -- (October 10) Cornerstone ceremony
1957 -- (January) Completion of building
1957 -- (September 1) Balance occupied
1957 -- (September 30) Dedication of Tower (residence) Hall
1973 -- (October 24) SUNY Board of Trustees names Tower Hall Stockton Kimball Tower
1974-1985 -- Housed the Health Sciences Library
---
Original Architect:
James Meadows & Howard
Construction Cost:
$586,000
Original Size:
130,552 sq. ft.