Lillias M. MacDonald Residence Hall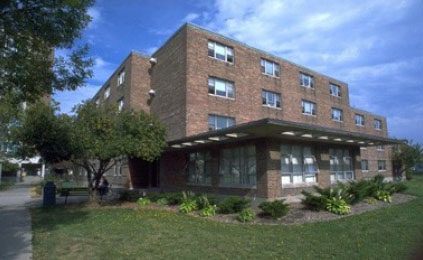 ---
Location:
South, Residences, Lost Buildings
---
Historical Note:
MacDonald Hall is one of four matching dormitories (including Pritchard/Cooke, Michael, and Schoellkopf Halls) surrounding Kimball Tower that began UB's history as a residential college. It was originally built as a women's residence hall.
---
Namesake:
Lillias M. MacDonald (1885-1961) was the University of Buffalo's first Dean of Women (1922-1952), established the Physical Education program, and was one of the greatest advocates for establishing residence halls.
---
History/Chronology:
1952 -- Construction on building started on Cooke, MacDonald, and Schoellkopf halls.
1952 -- (March 25) Groundbreaking ceremony
1952 -- (November 5) Cornerstone ceremony
1953 -- (February 1) Completion of MacDonald Residence Hall
1953 -- (November 15) Dedication
---
Original Architect:
James & Meadows
Original Contractors:
BAW Construction Co., Inc.
Construction Cost:
$1.5 million (for all three dormitory buildings - MacDonald, Schoellkopf, and Cooke)