Mearl D. Pritchard Hall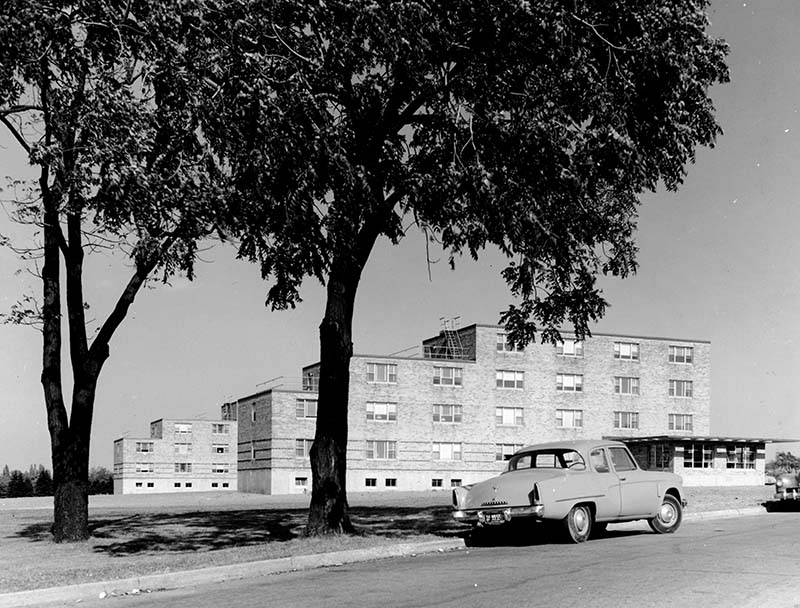 ---
Current Name:
Mearl D. Pritchard Hall
Former Name:
Cooke Hall (1953-77)
Location:
South, Residences, Lost Buildings
---
Historical Note:
Pritchard Hall is one of four matching dormitories (including MacDonald, Michael, and Schoellkopf halls) surrounding Kimball Tower that began UB's history as a residential college. It was originally built as a men's residence hall.
---
Namesake:
Mearl D. Pritchard (1900-1976) graduated from UB's School of Pharmacy in 1926. A pharmacist, prominent university alumnus and civic leader, he received the Samuel P. Capen Award in 1964.
Walter Platt Cooke (1869-1976) was a lawyer, financier and civic leader. He was the Chair of the University Council from 1920 to 1931 and received the Chancellor's Medal in 1926.
---
History/Chronology:
1952 -- Construction started on Cooke, MacDonald, and Schoellkopf halls.
1952 -- (March 25) Groundbreaking ceremony
1952 -- (November 5) Cornerstone ceremony
1953 -- (November 15) Dedication of Cooke Hall
1977 -- Cooke Hall was renamed Pritchard Hall after its name was transferred to a building on the North Campus.
1992 -- (September) Pritchard Hall closes for the Fall semester because of the large amount of "no shows."
---
Original Architect:
James & Meadows
Original Contractors:
BAW Construction Co., Inc.
Construction Cost:
$1.5 million (for all three dormitory buildings - MacDonald, Schoellkopf, and Cooke)
Original Size:
37,719 sq. ft.