Robert L. Ketter Hall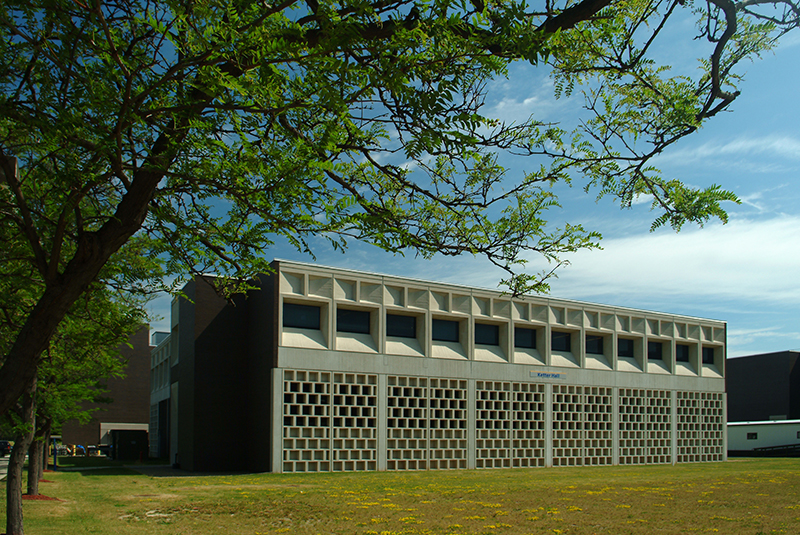 ---
Current Name:
Robert L. Ketter Hall
Former Name:
Engineering West
Location:
North
---
Historical Note:
Ketter Hall is home to the Department of Civil, Structural and Environmental Engineering from the School of Engineering and Applied Sciences (SEAS). Located in Ketter is the "Structural Engineering and Earthquake Simulation Laboratory (SEESL), a key node in a nationwide earthquake engineering collaboratory - the National Science Foundation's George E. Brown, Jr. Network for Earthquake Engineering Simulation (NEES). In this network, earthquake engineers and students located at different institutions are able to share resources, collaborate on testing, and exploit new computational technologies" (from the NEES website). The simulator is also part of the Multidisciplinary Center for Earthquake Engineering Research (MCEER), a national center of excellence that develops and applies knowledge and advanced technologies to reduce earthquake losses.
---
Namesake:
Robert L. Ketter (1928-1989) came to UB in 1958 as the first chairman of the Department of Civil Engineering. Throughout his long career with UB, Ketter served as Dean of the Graduate School of Arts and Sciences (1964-1966), Vice President for Facilities Planning (1966-1970), and President of the University (1970-1982). During his tenure as President, he oversaw the construction of the Amherst Campus, strengthened the University's research programs, initiated international programs in Korea, Japan, and China, and was a key player in the development of MCEER.
---
History/Chronology:
1981 -- (August) Building completed
1983 -- (November 10) Dedication of the Earthquake Simulator. Dr. George Housner of the California Institute of Technology, widely regarded as "the father of earthquake engineering", is the keynote speaker at the event.
1987 -- (August 27) Engineering West renamed Robert L. Ketter Hall
1988 -- Dedication of the new $1 million addition of new facilities for MCEER funded by a New York State and the National Science Foundation grant.
2003 -- (October) Construction completed on the $7.7 million Ketter Hall addition, the George E. Brown, Jr. Network for Earthquake Engineering Simulation Facility
2004 -- (September 24) Dedication of the George E. Brown, Jr. Network for Earthquake Engineering Simulation Facility
---
Original Architect:
Marcel Breur & Associates of New York City and Cannon Designs, Inc. of Buffalo
Original Contractors:
J.W. Cowper Construction Co.
Construction Cost:
$5,184,000
Original Size:
44,231 gross sq. ft.
---
Renovation Architect:
Habiterra Associates
Renovation Contractors:
Clarence Associates, Inc.
Renovation Cost:
$1 million
Renovation Size:
8,000 sq. ft.
Completed in 1988
---
2nd Renovation Architect:
Beckhard, Richlan, szerbaty and Associates LLP
2nd Renovation Contractors:
ADF Construction Corp.
2nd Renovation Cost:
$7.7 million
2nd Renovation Size:
27,982 gross sq. ft.
Completed in October, 2003