Grace M. Knox Hall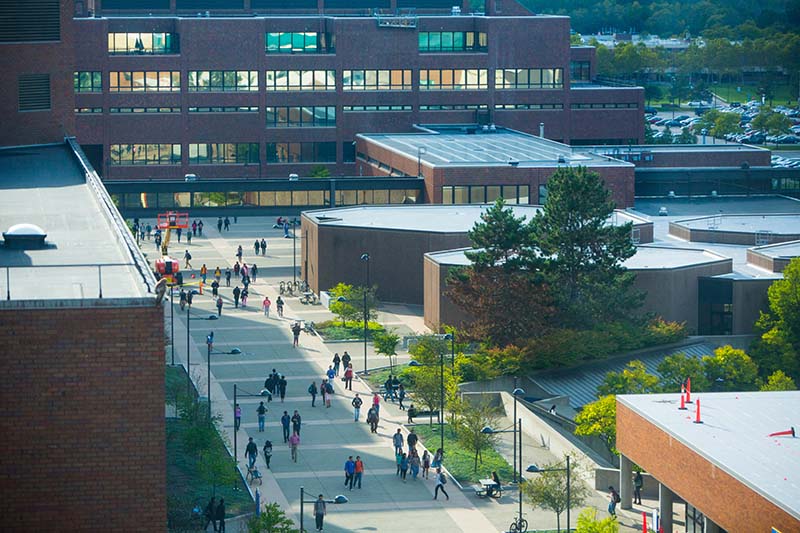 ---
Location:
North
---
Historical Note:
Knox Hall is actually four large octagonal clusters nestled between Norton Hall and the Student Union. "Equipped with everything from retractable screens to wet-lab demonstration benches, Knox Lecture Hall is a full-service presentation center. There are spaces for groups of nearly any size: one large hall accommodates 400 students, three medium-sized halls are perfect for 250 students, and two smaller classrooms seat 90 students each" (description from UB Buildings website).
---
Namesake:
Grace Millard Knox (1862-1936) established the Seymour H. Knox Foundation in 1916 when she donated $250,000 ($500,000 today) enabling the University to establish its first College of Arts and Sciences in Townsend Hall on Niagara Square in downtown Buffalo. Mrs. Knox wrote to the University at that time:
"We can think of no finer purposes in creating a memorial in memory of Mr. Knox than be permitted to assist in the upbuilding and development of an institution of learning such as the City of Buffalo should possses" (Grace Knox to UB Councilman Andrew Raymond, February 15, 1916 -- Julian Park Papers, 15/2/119, #4.4).
---
History/Chronology:
1981 -- (July) Building completed
1981 -- (August 29) Dedication
---
Original Architect:
Hamilton, Houston, & Lownie of Buffalo
Construction Cost:
$3,678,000
Original Size:
46,956 gross sq. ft.