John Lord O'Brian Hall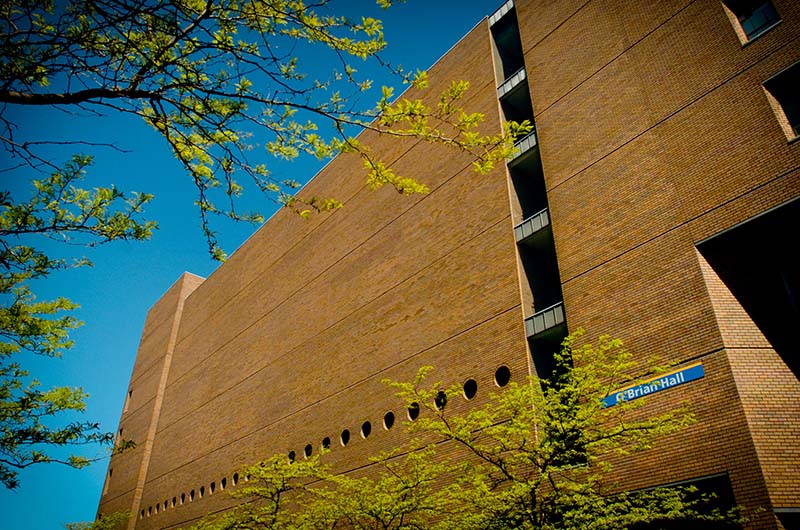 ---
Location:
North
---
Historical Note:
The first academic building to break ground on the University's new campus in Amherst, O'Brian Hall is home to the Law School and the Charles B. Sears Law Library.
---
Namesake:
John Lord O'Brian (1874-1973) was known as a noted constitutional lawyer and "government official with a deep sense of justice transcending partisan interest" (Buffalo Evening News, April 15, 1973). Over his long career, O'Brian was appointed for various government offices by six Presidents of the United States from Theodore Roosevelt to Harry S. Truman. His legal work often brought him to important cases involving labor and civil service reform and even disputed cases before the United Nations.
O'Brian also played a large part in UB's history. A graduate of the Law School in 1898, he was a member of the University Council from 1903-1929 when he moved permanently to Washington DC.
While still in Buffalo, O'Brian reportedly helped to persuade Chacellor Charles P. Norton in 1909 to locate the UBcampus on Main Street rather than on Elmwood Avenue near the former Pierce-Arrow plant. And in 1922 he was a member of the committee that brought Samuel P. Capen to the University -- the beginning of a new era for the school.
In 1940 O'Brian was awarded the University's prestigious Chancellor's Award. During the ceremony, Chancellor Capen lauded the attorney's life: "John Lord O'Brian, alumnus of this University, teacher, advocate, orator, statesman, inspiring interpreter of good causes, devoted citizen of this community, the Council of the University of Buffalo wards to you the Chancellor's Medal not for a specific act or a single accomplishment, but for a life of eminent service to City, State and Nation which has justly brought you high personal distinction and has dignified Buffalo in the eyes of the world."
---
History/Chronology:
1971 -- (May 11) Cornerstone laying
1973 -- (March) Building completed
1974 -- (April 8) Dedication
---
Original Architect:
Henry Weese & Associates of Chicago; Anthony Carlino & Associates of Buffalo
Construction Cost:
$7,474,000
Original Size:
205,534 gross sq. ft