Slee Hall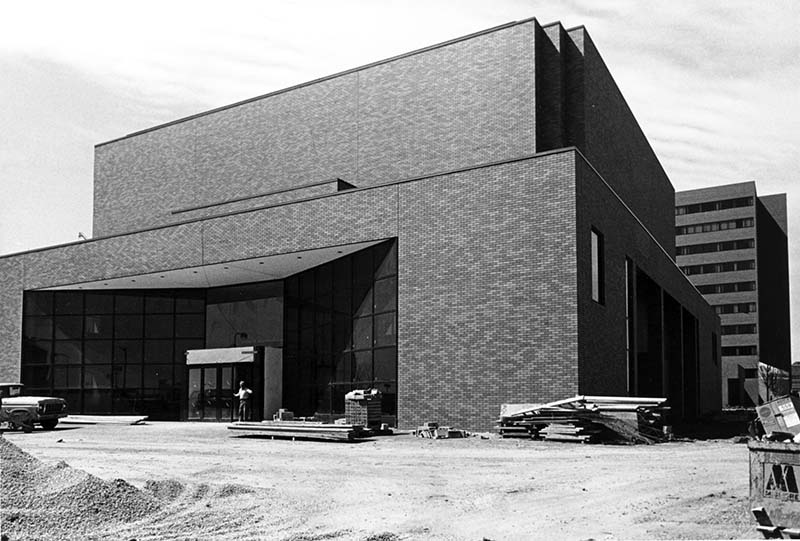 ---
Location:
North
---
Historical Note:
Inside Slee Hall is the beautiful 670 seat Lippes Concert Hall which serves as the main performance space for many of the University's musical concerts and recitals. In 1990 the University acquired the centerpiece of Lippes Concert Hall, the 20-ton, 2,822 pipe C.B. Fisk organ, one of the premiere teaching organs on the East Coast.
Slee also houses the Lejaren Hiller Computer Music Studios, one of the world's foremost research centers for interactive electronic music composition. Directed by Professor Cort Lippe, the Hiller Studios is at the cutting edge of new music technology. (from the Music Department pages on Slee Hall)
Slee Hall and adjoining Baird Hall were conceived as the "Music Complex" on the University's North Campus.
---
Namesake:
Frederick Caldecott Slee (1870-1954) was known by his colleagues as a "businessman's lawyer -- a man of unerring judgment and keen insight into contracts that presented many ramifications. His high integrity and legal know-how won him the confidence and respect of associates" (Buffalo Evening News May 19, 1964). In 1923 Slee formed a partnership with John Lord O'Brian and others and in 1941 when he went to Washington to become general council for the Office of Production Management.
Alice MacDonald Slee (1875-1956) was known for her work with the Buffalo Chapter of the American Red Cross during WWI and WWII as well as her dedication to the House of the Friendless serving as both as a member of the board of directors as well as treasurer. In 1946 Buffalo Business magazine named her "Frontierswoman" and in 1952 the Buffalo Evening News designated her a one of "WNY's outstanding citizens."
Both Frederick and Alice Slee were devoted to music. Frederick Slee was an accomplished pianist, violinist, violist and cellist and would often perform for friends in the Slee's music room in their house on Saybrook Place in Buffalo. It was largely due to Slee's efforts along with Cameron Baird and Samuel P. Capen that the Buffalo Philharmonic Orchestra was formed. After Frederick's death, Alice Slee sponsored the first performance of the Beethoven Cycle in 1955 performed by the Budapest String Quartet. In a joint will, the Slees left the bulk of their estate to the University's Music Department to continue the classical string concerts. Now an annual performance, the Slee Beethoven Cycles are very popular today.
---
History/Chronology:
1981 -- (November) Completion
1982 -- (November 22) Open House and Inaugural Faculty Recital (in conjunction with the opening of Baird Hall)
2004 -- The performance space in Slee Hall is renamed "Lippes Concert Hall" in recognition of a major gift to the University from Gerald and Sandra Lippes.
---
Original Architect:
Ulrich Franzen & Associates from NYC
Original Contractors:
J. Migliore Construction Company of Tonawanda
Construction Cost:
$2,886,000
Original Size:
39,875 gross sq. ft.