Student Union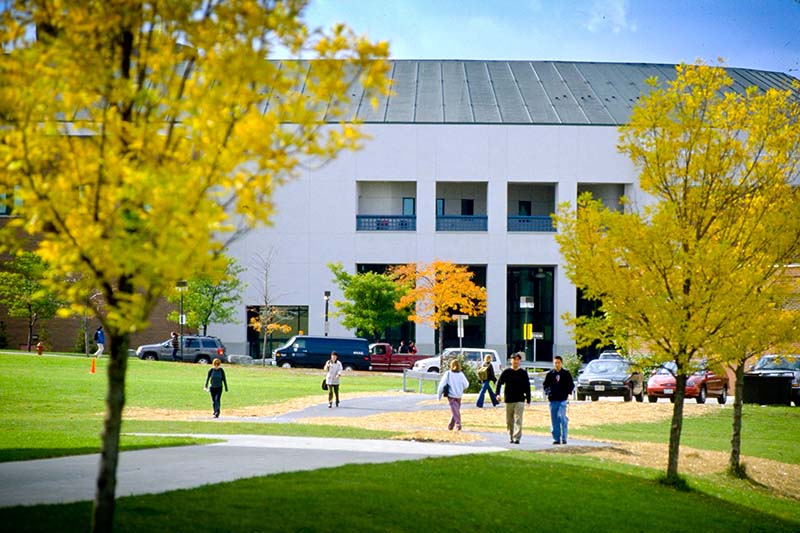 ---
Current Name:
Student Union
Former Name:
Student Activities Center (1984-1992)
Location:
North
---
Historical Note:
After the only student union (Squire Hall on South Campus) was closed in 1982, there was a time when there was no centralized place for students on either the North or South campuses. In 1984, the Student Activity Center (SAC) was built on the North Campus. But the SAC did not function as a true student union and many student organizations and clubs were still scattered across the University.
The University House Council passed a resolution recognizing the SAC as too small and called for "an immediate extension of the SAC that would give it activity space comparable in usable square footage to that of Squire Hall" (October 24, 1985). Until the second construction was completed, the Student Activities Center remained only one step in the right direction.
Plans solidified for a real student union on North Campus in 1989. The expansion was completed almost one year ahead of schedule and student organizations began moving into the building after the end of the 1992 spring semester. A resolution was passed renaming the Student Activities Center "Student Union" in April 1992 in conjunction with the building's fulfillment of its potential.
During the November 1992 opening ceremony of the new North Campus Student Union, then-President Greiner stated:
"This new union can be an invaluable resource if you, students, let it be so. Especially during this unprecedented time in the history of our county and the world, we need the energy and enthusiasm and freshness of your people... It's here to unite students, here to unite various aspects of their lives.
It will fall to you in your role as students and student leaders, to choose how you will shape student life here at UB. You will decide the use of the union; it is you who will decide the use of its facilities. Above all, I hope you will continue to use it, to enjoy it, to think about the new opportunities it offers for all kinds of people to put their talents and ideas to work on behalf of the UB community. ...So, students, it's all yours."
---
History/Chronology:
1982 -- (February 26) Squire Hall (the student union on South Campus) officially closes. Over 200 students hold a sit-in. When Thirty-two refuse to leave at 2:00 a.m., they are charged with criminal trespassing. President Ketter suspends the 32 students as his last act in office as President of UB.
1984 -- (August) Student Activities Center opens, but student activities still do not have a central location on campus.
1985 -- Phase I begins
1992 -- Phase II begins
1992 -- (November 12) Dedication of the new Student Union
---
Original Architect:
PHASE I: Habiterra Association from Jamestown
Construction Cost:
PHASE I: $3,625,000
Original Size:
PHASE I: 47,310 gross sq. ft.
---
Renovation Architect:
PHASE II: Stieglitz, Stieglitz and Tries
Renovation Cost:
PHASE II: $12,416,000
Renovation Size:
PHASE II: 110,241 gross sq. ft.