Gregory B. Jarvis Hall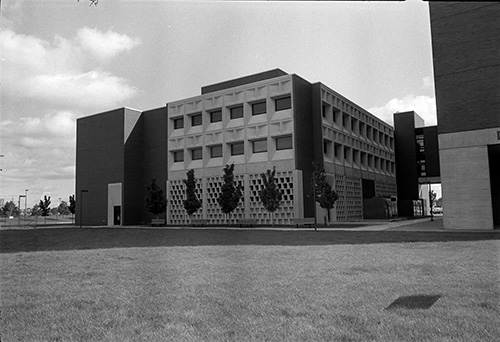 ---
Current Name:
Gregory B. Jarvis Hall
Former Name:
Engineering East
Location:
North
---
Historical Note:
Jarvis Hall is named for UB graduate Gregory B. Jarvis, an electrical engineer and astronaut who died on January 28, 1986 when the Space Shuttle Challenger broke apart 73 seconds into its flight. After Jarvis' death, popular student sentiment called for the renaming of one of the School of Engineering's two new buildings as Jarvis Hall. Though students went so far as to nail a handmade "Jarvis Hall" sign to the side of Engineering West, the SUNY Board of Trustees would approve the renaming of Engineering East as Jarvis Hall at their June 24 1987 meeting.
The official Jarvis Hall dedication ceremony took place on October 12, 1987. At the ceremony, Jarvis' widow Marcia presented the university with a UB flag that Jarvis took with him aboard the Challenger and a commemorative plaque from NASA.
Jarvis Hall is the home of the Department of Mechanical and Aerospace Engineering, the Engineering Machine Shop, the Great Lakes Program and space for other engineering departments.
---
Namesake:
Gregory B. Jarvis was an electrical engineer (BS University at Buffalo, 1967; MA Northwestern University, 1969) who worked for the Hughes Aircraft Company's Space and Communications Group. When Hughes Aircraft Company was assigned two payload specialist slots for an upcoming NASA mission, Jarvis was selected from a pool of 600 candidates.
Though originally assigned to a March 1985 mission, Jarvis was bumped off the roster. This would happen again twice before he was assigned to the Space Shuttle Challenger. On January 28, 1986, the Challenger broke apart when one of its booster engines failed, killing Gregory Jarvis and his six crewmates.
---
History/Chronology:
1981 -- (August) Construction completed.
1987 -- (October 12) Engineering East is dedicated Jarvis Hall.
---
Original Architect:
Marcel Breuer and Associates and Cannon Design Inc.
Original Contractors:
J.W. Cowper Construction Company
Construction Cost:
$5,581,000
Original Size:
42,000 sq. ft.