Murchie Family Fieldhouse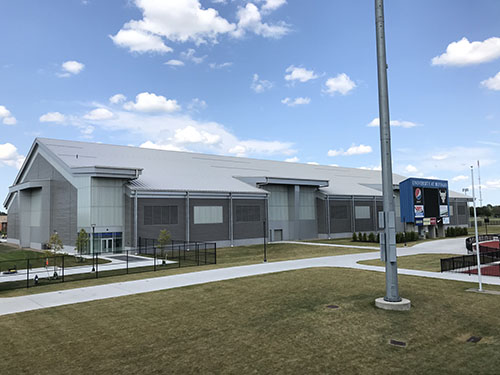 ---
Location:
North
---
Historical Note:
The Murchie Family Fieldhouse is the indoor practice space for UB intercollegiate athletic teams. The interior includes a full-sized football field, more than 6000 feet of track for sprint practice, and pits for long jump, triple jump and pole vault. The Murchie Family Field house is spacious enough to accommodate up to four team practices at one time.
---
Namesake:
UB's fieldhouse is named in honor of Tunney Murchie, his wife Deanna and their family. Tunney and Deanna Murchie are both UB graduates. While at UB, Tunney Murchie was a member of the UB hockey team from 1971-1973 and was assistant coach for one season.
---
History/Chronology:
2017 -- (October 7) Groundbreaking for the Murchie Family Fieldhouse.
2019 -- (August 8) The Murchie Family Fieldhouse is officially opened.
---
Original Architect:
CHA Consulting Inc.
Original Contractors:
LeChase Construction Services LLC
Construction Cost:
$18,000,000
Original Size:
92,000 sq. ft.