Julian Park Hall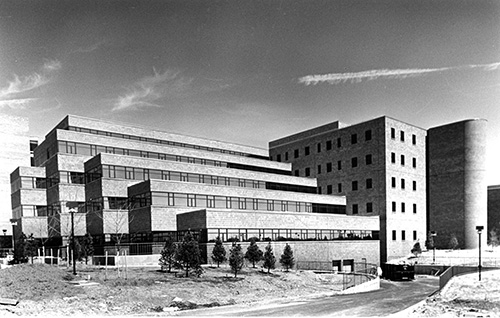 ---
Location:
North
---
Historical Note:
For years, members of the Social Sciences departments had been housed in temporary facilities at the Ridge Lea interim campus or elsewhere on the far reaches of the Amherst Campus. With the construction of the Julian Park Hall in the fall of 1986, the Faculty of Social Sciences was given a permanent home. The building, constructed at a cost of $9.7 million and fitted with $1 million in new equipment, connects to the Jacobs Management Center to the east. An enclosed second-floor corridor connects the building to the rest of the North Campus' academic "spine", making it possible to reach libraries and associated Social Sciences departments in nearby buildings without having to go outside. The Julian Park Building comprises of 74,500 square feet and also houses a number of specialized laboratory facilities for research and service programs. The labs include the Psycho-physiology Lab, and the Speech Perception Research Lab. The clinical areas of the building contain the University's Speech, Language, and Hearing Clinic, as well as the Psychological Services Center.
---
Namesake:
The son of Dr. Roswell Park, Julian Park was born in 1888. After graduating from Williams College and studying at the Universite de Paris, Julian Park joined the faculty of the University of Buffalo in 1913. He wrote a history of the University of Buffalo in 1917 and in 1919 was named the first dean of the College of Art Sciences, a position he held until his retirement in 1954. Park published a biography of Samuel Capen in 1957 and spent many years writing an updated history of the university, portions of which were published prior to his death in 1965. The University Archives holds Park's personal and professional papers. His large collection of rare and first editions is held by the Rare Books Collection.
---
History/Chronology:
1986 -- (March) Construction of the Julian Park Building is completed
1986 -- (Summer) The Faculty of Social Sciences moves into Julian Park Hall
1987 -- (April 25) The ceremony dedicating Park Hall is held.
---
Original Architect:
Hutchins, Evans, and Lefferts of New York City and Biggie-Schaflucas
Original Contractors:
Sevenson Construction Company
Construction Cost:
$9.7 million
Original Size:
74,500 square feet