Samuel L. Clemens Hall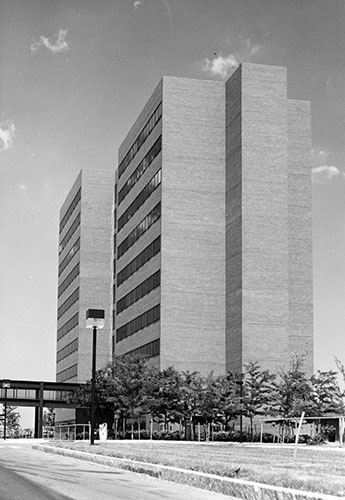 ---
Location:
North
---
Historical Note:
Clemens Hall was completed in 1976. Named after one of North America's most famous authors, Samuel Clemens, the 10-story building appropriately houses the College of Arts and Sciences administrative offices, the departments of English, Romance Languages and Literatures, Social Sciences Interdisciplinary Degree Programs, and holds classrooms and offices for UB's renowned Comparative Literature and American Studies programs. Clemens Hall also contains Language laboratories to aid students in their foreign language requirements for their general education studies. In March of 1989, a fire broke out on the building's seventh floor and cost the University up to $25,000 in damages due to smoke damage.
---
Namesake:
Samuel Clemens, known by his pen name Mark Twain, was an American humorist author that wrote classic works such as Huckleberry Finn and Tom Sawyer. Clemens moved to Buffalo in 1869 and stayed until 1871, living at 472 Delaware Avenue just north of downtown Buffalo. During his short stay, Clemens and his wife, Olivia, gave birth to their first child, Langdon Clemens and he became the editor and part-owner of the now-defunct Buffalo Express along with Joseph Larned and David Gray. Clemens was heavily involved with the Young Men's Association, the Buffalo and Erie County Public Library's predecessor, and generously donated the first half of the manuscript of Huckleberry Finn to the Association. In 1885 however, it was believed the first half of the manuscript was lost by the printer and he sent the Association the second half. In 1991, the lost first half of the manuscript was found in Los Angeles and has since been reunited with the second half in Buffalo. The full manuscript is now housed and on display at the downtown Central Library of the Buffalo and Erie County Public Library and can be viewed by the public in their Mark Twain Room.
---
History/Chronology:
1976 -- (May) Clemens Hall construction is completed
1977 -- (November 3) Dedication ceremony held for Clemens Hall. As part of the ceremony, the annual Fenton Lecture was given by Professor Benjamin DeMott.
1989 -- (March) A fire breaks out on the seventh floor of Clemens Hall due to a couch catching fire. Clemens Hall suffers up to $25,000 worth of smoke damage.
---
Original Architect:
Ulrich Franzen and Associates of New York City
Construction Cost:
$5,360,000
Original Size:
117,391 gross sq. ft.