William R. Greiner Hall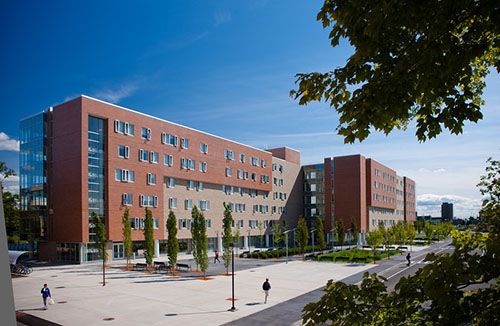 ---
Location:
North
---
Historical Note:
Greiner Hall is a residence facility built for sophomore UB students that stands adjacent to the Ellicott Complex on Lee Road. The facility, built with suite-style accommodations for 600 residents, includes kitchens and laundry rooms on every floor, a full business center, a fireplace lounge, a 50-seat Au Bon Pain cafe, and air conditioning throughout the facility. The facility is also a model of green construction that is universally accessible to people of all abilities. In support of UB's living and learning philosophy, the hall's array of multipurpose lounges and classrooms are suitable for educational and social programs. "The entire first floor of the building will demonstrate the vibrancy of 24-hour-a-day academic activity, a key principle in the learning landscapes concept," according to Joseph J. Krakowiak, director of University Residence Halls and Apartments. Greiner Hall was designed to be LEED (Leadership in Energy and Environmental Design) Gold Certified, the highest rating achievable by the U.S. Green Building Council. The inception of Greiner Hall dates back to 2009 as part of the UB 2020 plan to increase enrollment. Construction began on Greiner Hall in November of 2009 and it is the first residence hall in the United States to be developed under Universal Design principles.
---
Namesake:
William R. Greiner (1934-2009) joined the UB law faculty in 1967 and shortly thereafter became chairman of the Legal Studies Programs. By 1984, he was named UB's first University Provost. He served as interim president from March 1991 until his appointment as president by the Chancellor and Board of Trustees on September 25, 1991. Greiner's accomplishments as president included creating numerous trans-disciplinary research centers and institutes; reaffirming the University's commitment to public service; streamlining student services and record enrollments; increasing exchange and study abroad programs; conducting a record-breaking capital campaign; constructing a series of student residential centers and other major construction projects; creating of Task Forces on Women and on Racial and Ethnic Diversity; and moving the UB football team to Division 1-A. Greiner received the Chancellor Charles P. Norton Medal, the university's highest honor. In 2004 Greiner returned to teaching in the Law School.
---
History/Chronology:
2009 -- (November) Construction beings for Greiner Hall
2010 -- (February 2) Willian R. Greiner is announced as the namesake for the residence hall at Greiner's public memorial
2011 -- (August 19) UB celebrates Greiner Hall's dedication and grand opening
---
Original Architect:
Cannon Design
Original Contractors:
LPCiminelli
Construction Cost:
$52,469,435
Original Size:
198,208 gross sq. ft.