Barbara and Jack Davis Hall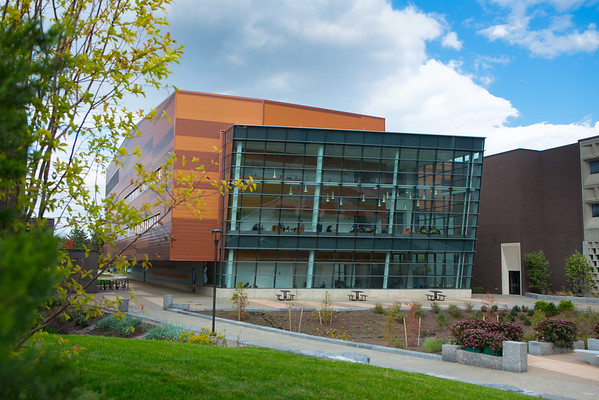 ---
Location:
North
---
Historical Note:
UB celebrated the grand opening and dedication of Barbara and Jack Davis Hall on May 10, 2012. When it opened, the facility housed the School of Engineering and Applied Sciences' departments of Computer Science and Engineering, and Electrical Engineering, as well as the Center of Excellence in Document Analysis and Recognition (CEDAR) and the Center for Unified Biometrics and Sensors (CUBS).
Notable among Davis Hall's features are "smart rooms" that use the latest technology to allow the features the room to change based on the needs of the people using them, and "clean rooms" that filter contamination and support research in areas of nanotechnology, electronics, and biomedical engineering.
---
Namesake:
Jack Davis is a graduate of the UB's engineering school's Class of 1955. In 1964, he became the founder of the Akron-based I Squared R Element Co., the nation's only manufacturer of silicon carbide and molybdenum disilicide heating elements. These elements are used to make flat-panel display glass, fiber optics, solar panels, and other products. Jack and his wife Barbara were announced as the namesake for the new engineering building in January of 2011.
---
History/Chronology:
2008 -- (January) An anonymous donor gifts $1 million to the construction of the new Engineering Building
2009 -- (April 24) UB breaks ground for the new Engineering Building
2011 -- (January) Barbara and Jack Davis are announced as the namesake of the new Engineering Building
2011 -- (December 11) Construction is completed
2012 -- (May 10) The grand opening and dedication ceremony for Davis Hall takes place
2012 --(June) Davis Hall wins the "Best Educational Project" award from Buffalo's Business First's annual Brick By Brick awards
---
Original Architect:
Perkins And Wills Architects
Construction Cost:
$45,000,000
Original Size:
146,911 sq. ft.