Wilson S. Bissell Hall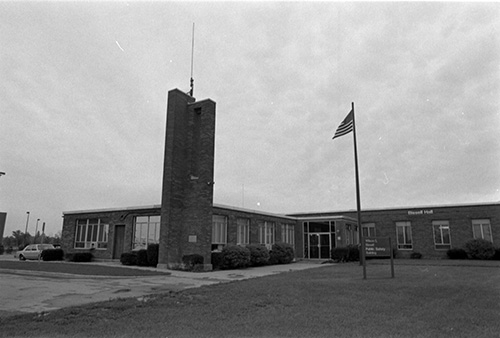 ---
Location:
North
---
Historical Note:
Bissell Hall serves as the headquarters of University Police. It is one of only two buildings on the North Campus that pre-date UB's ownership of the campus (the other is the Campus Mail Center). Built in 1958 as a church, it was renovated in 1966 for University Purposes. The latest renovation was completed in the spring of 2004. It consisted of the addition of approximately 2,200 square feet of space for bathrooms and locker rooms for University Police personnel as well as upgrades of other rooms in the facility.
---
Namesake:
Wilson S. Bissell was the University of Buffalo's fifth Chancellor (1902-1903) and had previously served as Vice-Chancellor from 1895 until 1902. He was a law partner of Grover Cleveland in the firm founded by Orsamus Marshall. He served as Postmaster General of the United States in 1893-1895. Wilson Bissell died in 1903.
---
History/Chronology:
1958 -- (September) Construction of the original building (as a church) is complete
1966 -- The church is renovated for UB purposes
2004 -- (Spring) Renovations
Construction Cost:
$18,000
Original Size:
6,900 gross sq. ft.