Biomedical Research Building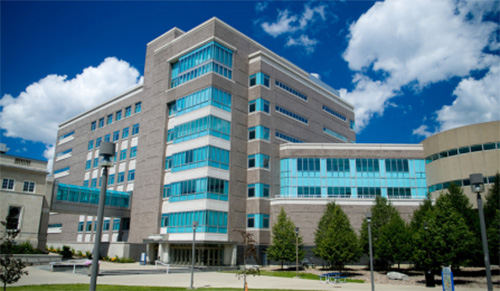 ---
Current Name:
Biomedical Research Building
Former Name:
Cary-Farber-Sherman (CFS) Addition
Location:
South
---
Historical Note:
Completed in December 1995, the Biomedical Research Building contains 110,000 square feet of laboratory space including 60 wet laboratory units and 18 "environmental chambers" for the use of heated or chilled materials. The building also contains 60 offices for investigators, 12 darkrooms and 6 conference areas. When planning for the building, Joseph T. Spence, Ph.D. (former dean for Research and Graduate Studies at UB) and his team tried to envision the School of Medicine and Biomedical Sciences' research needs twenty years into the future. They were particularly interested in design concepts that would make the building as flexible as possible.
---
History/Chronology:
1992 -- (May 2) Groundbreaking
1995 -- (December) Construction complete
1996 -- (February 22) The Biomedical Research Building is dedicated as part of UB's Sesquicentennial Celebration
---
Original Architect:
Helmuth Obata Kassebaum
Original Contractors:
Suffolk Construction Co. Inc.
Construction Cost:
$54 million
Original Size:
210,000 sq. ft.