Walter P. Cooke Hall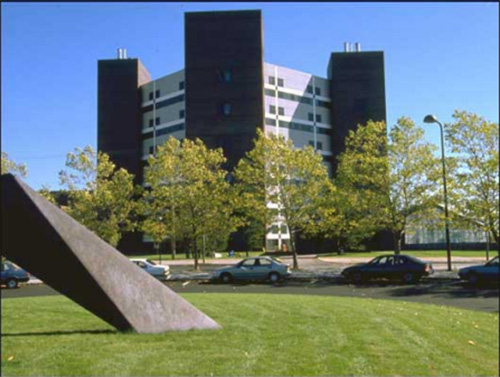 ---
Location:
North
---
Historical Note:
The 1970 plan for the North Campus called for the construction of 20 identical, linked towers to house UB's health sciences schools. After the decision was made to keep the health sciences on the South Campus, only two towers were constructed. Though the complex appears much taller, each tower has only six stories. Interstitial space between each floor houses wiring, air ducts and mechanical components. This space also provides flexibility for future laboratory needs. Each tower includes small classrooms and large lecture halls on the first floor, with teaching and research laboratories, and faculty offices filling the remaining stories. Though often referred to as "Cooke/Hochstetter," the west tower is named Walter P. Cooke Hall and the east tower is named Ralph Hochstetter Hall.
---
Namesake:
Walter P. Cooke, chairman of the University Council, served as Acting Chancellor from 1920-1922. A native of Buffalo and graduate of the Cornell law school, Cooke was a partner in the firm of Kenefick, Cooke, Mitchell, Bass & Letchworth, chairman of the board of the Marine Trust Company, and a director of many of Buffalo's leading corporations.
In 1920, UB was a loosely organized group of professional schools, with only the bare beginnings of an arts and sciences college. The only endowment was the Knox fund for the arts and sciences; the professional schools were without funds. Buildings and equipment were insufficient. Most of the teaching staff were part-time volunteers. With slightly more than 1,000 students, UB had never had a full-time chancellor. In the summer of 1920, Cooke took steps to make the dream of a "greater university" a reality. After provisional letters of resignation had been received from council members and Chancellor Charles P. Norton, Cooke led a reorganization of the University Council that resulted in his being elected council chair. Once in charge, he created the Committee on General Administration, the group empowered to oversee the activities of the university. Cooke was to chair that group, too.
Cooke had directed Buffalo's successful Liberty Loan campaign in support of the Allied cause in World War I, and it was the organization of volunteers from that campaign that he summoned to undertake UB's first capital campaign in the fall of 1920, raising $5 million in 10 days. Between 1920 and 1922, Cooke served as acting chancellor. With the appointment of George D. Crofts as treasurer in 1921 and Samuel P. Capen as chancellor in 1922, UB had it first two full-time administrators.
---
History/Chronology:
1977 -- (September) Construction complete
1996 -- (April) Renovations begin adding better insulated and weather resistant panels to the exterior of Cooke and Hochstetter Halls.
---
Original Architect:
Hellmuth Obata and Kassabaum
Construction Cost:
$10.76 million
Original Size:
214,112 gross sq.ft.
Renovation Contractors:
Concept Construction, Kelly Brothers, Guipsam Systems
Renovation Cost:
$1.65 million
Beginning in April 1996, better insulated and weather resistant panels were installed on the exterior of Cooke and Hochstetter Halls. Scheduled for completion in August 1997, the renovation was funded by the State University Construction Fund.