Ralph Hochstetter Hall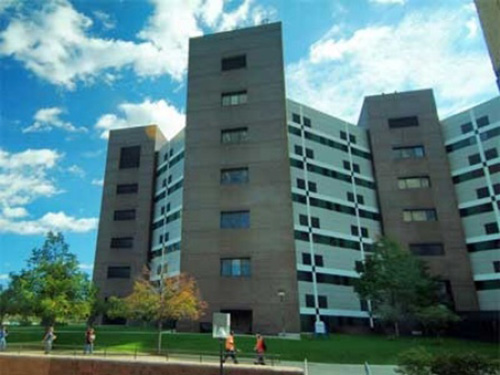 ---
Location:
North
---
Historical Note:
The 1970 plan for the North Campus called for the construction of 20 identical, linked towers to house UB's health sciences schools. After the decision was made to keep the health sciences on the South Campus, only two towers were constructed. Though the complex appears much taller, each tower has only six stories. Interstitial space between each floor houses wiring, air ducts and mechanical components. This space also provides flexibility for future laboratory needs. Each tower includes small classrooms and large lecture halls on the first floor, with teaching and research laboratories, and faculty offices filling the remaining stories. Though often referred to as "Cooke/Hochstetter," the west tower is named Walter P. Cooke Hall and the east tower is named Ralph Hochstetter Hall.
---
Namesake:
Ralph Hochstetter (1870-1955) was the President of Cliff Petroleum Company and director of Manufacturers and Traders Trust Company. A bachelor, Hochstetter originally intended to bequeath his entire estate to the University of Rochester. However, UB Chancellor Clifford C. Furnas persuaded him to split his estate between the University of Rochester and UB. Hochstetter split his estate evenly between the two institutions. At the time, the several million dollar gift was the largest single donation UB had received.
---
History/Chronology:
1977 -- (September) Construction completed
1996 -- (April) Renovations begin adding better insulated and weather resistant panels to the exterior of Cooke and Hochstetter Halls
---
Original Architect:
Hellmuth Obata and Kassabaum
Construction Cost:
$14.72 million
Original Size:
187,080 gross sq. ft.
Renovation Contractors:
Concept Construction, Kelly Brothers, Guipsam Systems
Renovation Cost:
$1.65 million
Beginning in April 1996, better insulated and weather resistant panels were installed on the exterior of Cooke and Hochstetter Halls. Scheduled for completion in August 1997, the renovation was funded by the State University Construction Fund.