Solar Strand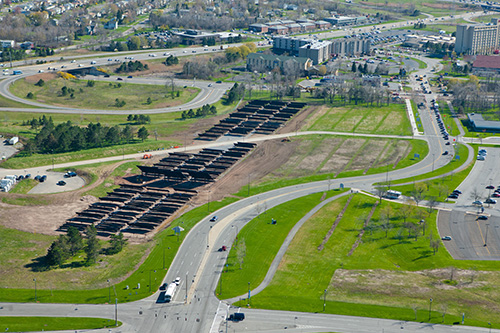 ---
Location:
North
---
Historical Note:
The Solar Strand is UB's publicly accessible renewable energy park. Consisting of 3,200 panels and measuring 140 feet wide by 1,240 feet long, the Solar Strand is located on the eastern side of Flint Road between Audubon Parkway and Maple Road. Constructed with a $7.5 million award from the New York State Power Authority, the array has the capacity to produce 750,000 watts of energy.
The Solar Strand was designed by Walter Hood, professor and former chair of the Landscape Architecture Department at the University of California - Berkeley and founding principal of Hood Design. The Solar Strand was designed to be a public gathering space and outdoor classroom. Two of the largest panels measure 28 feet in height and form a shaded public plaza. The panels are arranged in three rows with paths between each row of panels. From the air, the entire array resembles a DNA fingerprint. The panels were specially designed to operate in cold climate and withstand heavy snowfall.
---
History/Chronology:
2009 -- (May) The New York State Power Authority awards UB $7.5 million to construct a solar energy array on the North Campus
2010 -- (April 22) UB President John B. Simpson announces the winning design for the solar energy array at the Albright-Knox Art Gallery's exhibit "UB Solar: The Art of Power." Walter Hood's "Solar Strand" is the winning design of the invitational design competition.
2011 -- (June) Construction begins
2012 -- (April 23) Dedication and grand opening
2013 -- (April 22) The Solar Strand opens to the public
2013 -- (May 21) The Solar Strand reaches the milestone of one million kilowatt hours of power generated
---
Original Architect:
Walter Hood, Hood Design
Original Contractors:
DeCloet Greenhouse Manufacturing, Ltd.
Construction Cost:
$7.5 million
Construction Note:
The construction of the Solar Strand supported jobs at over 40 New York State companies. The complete list of subcontractors, suppliers and consultants can be found in the Solar Strand Dedication and Grand Opening program found in the University Archives.