Jacobs Management Center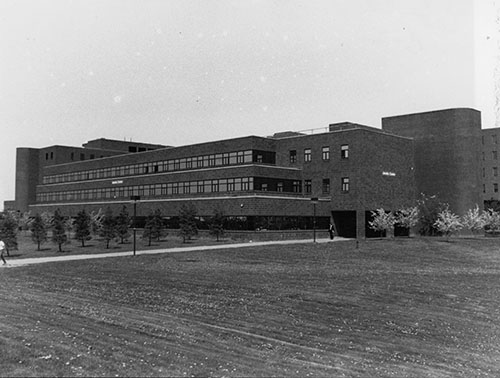 ---
Location:
North
---
Historical Note:
The Jacobs Management Center is the home of UB's School of Management. The building includes a conference center, lecture halls, classrooms and administrative offices.
---
Namesake:
The Jacobs Management Center is named after the Jacobs family in honor of their $1 million gift to UB in 1983. The building honors the late Louis Jacobs, his wife, the late Genevieve Bibby Jacobs and their three sons: Jeremy M. Jacobs, Chair and CEO of Delaware North Companies and chair of the UB Council; the late Lawrence D. Jacobs, professor and chair of the UB Department of Neurology and world renown researcher in the treatment of multiple sclerosis; and Max Jacobs, a successful stage actor active in a wide range of community and cultural activities.
---
History/Chronology:
1985 -- (January) Construction completed
1985 -- (May 21) Building dedicated
---
Original Architect:
Hutchins Evans and Lefferts of New York City and Biggie Shaflucas of Buffalo (Associate Architects)
Original Contractors:
Sevenson Construction
Construction Cost:
$4.9 million
Original Size:
93,425 gross sq. ft.