Jeanne and Sal H. Alfiero Center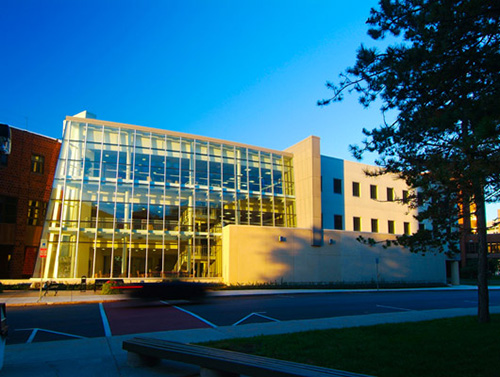 ---
Location:
North
---
Historical Note:
The Alfiero Center is the School of Management's student-focused academic and development center. It houses student advisement offices, high-tech classrooms and lecture halls, student organization offices, and multiple rooms for recruitment meetings, student team meetings and group projects. The building's cafe and large open atrium were designed to promote informal networking and the building's distinctive glass walls are meant to keep the School of Management's students connected to the North Campus at large.
The Alfiero Center is the first UB building constructed primarily through private donations. The largest single gift was made in 2001, when Sal H. Alfiero and his wife, Jeanne donated $2 million. Over 150 other donations were received for the $7 million center. Many of these donors were recognized with the naming of 27 interior spaces or by their names being added to a donor recognition wall. The first gift toward the building of the center was made in 1999 when Class of 1948 School of Management graduate J. Grant Hauber and his wife, Marcia donated $500,000. The Alfiero Center's atrium is named in their honor.
---
Namesake:
The Alfiero Center was named in honor of the chair and CEO of Protective Industries, Sal H. Alfiero, and his wife, Jeanne, who made a $2 million gift to the school. Additional funding for the $7 million project was provided by alumni and friends of the School of Management as a component of "The Campaign for UB: Generation to Generation."
---
History/Chronology:
2003 -- (April 3) Groundbreaking ceremony
2005 -- (March) Construction completed
2005 -- (April 26) Dedication ceremony
---
Original Architect:
Foit-Albert Associates
Original Contractors:
GPS Construction Services
Construction Cost:
$7 million
Original Size:
28,303 gross sq. ft.