Walter Kunz Stadium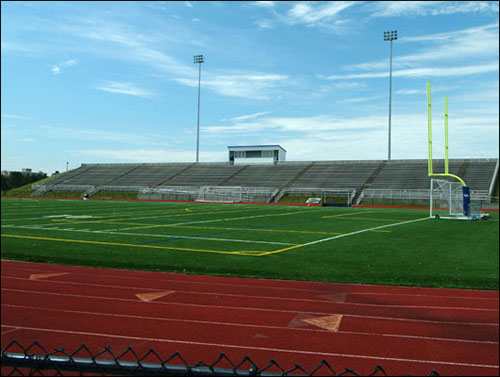 ---
Current Name:
Walter Kunz Stadium
Former Name:
UB Stadium (1985-1993)
Location:
North
---
Historical Note:
Located opposite of the Cooke-Hochstetter parking lots, Walter Kunz Stadium was the first stadium built on the North Campus. The playing field is painted with lines for football, soccer, field hockey and lacrosse games and is encircled by an eight-lane 400-meter running track. Kunz Stadium features 4,000-seat bleacher seating with additional "berm" seating and standing room on the northwest side of the stadium. The stadium provides a venue for club teams and intramural sports, and a practice site for the UB marching band.
---
Namesake:
Walter N. Kunz received an Ed.M in General Education (1965) and a Ph.D. in Higher Education and Sociology (1970) from the University at Buffalo. He served in a number of senior administrative offices throughout UB, including continuing education, undergraduate education and athletics. In 1994, Walter Kunz was named Assistant Vice President in charge of UB's Office of Public Service and Urban Affairs. Known as a strong supporter of UB Athletics, Kunz made a generous gift to UB that helped rehabilitate "old" UB Stadium. The stadium was rededicated Walter Kunz Stadium in his honor.
---
History/Chronology:
1985 -- (August) Construction completed
1985 -- Events for the Empire State Games are held at UB Stadium
1986 -- Events for the Empire State Games are held at UB Stadium
1987 -- (Fall) A $150,000 scoreboard is installed
1993 -- The Division of Athletics moves all team activities to the newly completed UB Stadium adjacent to Alumni Arena
1996 -- Events for the Empire State Games are held at "old" UB Stadium
2004 -- (Summer) 99,000 square feet of new turf is installed in "old" UB Stadium, making the field usable for sports clubs and intramural sports. Within a year, a lighting system and permanent restrooms would also be added.
2005 -- (April 16) "Old" UB Stadium is rededicated Walter Kunz Stadium
---
Original Architect:
Sasaki Dawson and DeMay
Original Contractors:
Site Contractors of Orchard Park and Sevenson Contractors of Niagara Falls
Construction Cost:
$2.1 million