Natural Sciences Complex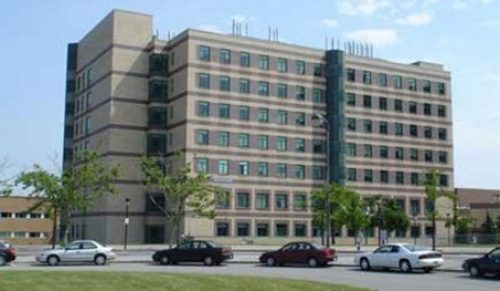 ---
Location:
North
---
Historical Note:
The Natural Sciences Complex consists of two main sections: a two-story lecture hall and classroom building, and an eight-story research building. The lecture hall contains five, 150-350 seat lecture halls and five, 90 seat capacity classrooms. Each of the 128 labs in the research building includes a dedicated fan, exhaust and duct system. The 128 corresponding exhaust cones on the roof have caused the research buildings to be likened to a large birthday cake.
With the Natural Sciences Complex, the university wished to continue the departure the North Campus' brown brick architecture begun with the construction of the Student Union and Center for the Arts. The mixture of dark and light-colored brick, and the inclusion of large windows in the complex's classrooms, laboratories and corridors are both a departure from the campus' older buildings.
---
History/Chronology:
1991 -- (February) Construction begins
1991 -- (July 29) Nine constructions workers fell twelve feet when the support structure below the concrete floor they were pouring collapsed
1994 -- (April) Construction completed
1994 -- (Fall) Natural Sciences Complex opens
---
Original Architect:
Davis Brody and Associates
Original Contractors:
Frank L. Ciminelli Construction Co. Inc. and Walbridge Aldinger Co.
Construction Cost:
$49.9 million
Original Size:
306,873 gross sq. ft.