Cornelia H. Allen Hall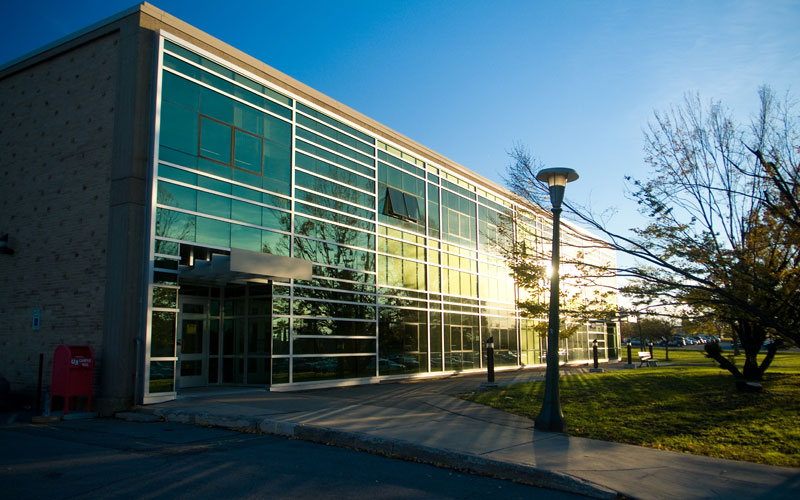 ---
Current Name:
Cornelia H. Allen Hall
Former Name:
Frank Burkett Baird Music Building
Location:
South
---
Historical Note:
Allen Hall is well known as theformer home WBFO, Buffalo's National Public Radio affiliate. It houses recording studios as well as a performance hall. Allen Hall was originally built as the music building (Baird Hall) for a proposed fine arts center.
---
Namesake:
Cornelia Hopkins Allen (1896-1979) was a pioneer in the field of social work. She was a member of the faculty of the University of Buffalo's School of Social Work for thirty-one years.
Frank Burkett Baird (1852-1939) was an ironmaster and a pioneer in iron and steel. Through his efforts the Peace Bridge, connecting the city of Buffalo with Ontario, Canada, was built. Baird was a member of the University Council from 1920-1939, and was a recipient of the 1927 Chancellor's Medal.
---
History/Chronology:
1956 -- (May 28) The University of Buffalo Council approves plans for the construction of a Music Building, the first phase of the University's proposed Fine Arts Center. (This South Campus Fine Arts Center was never built)
1956 -- (July 24) Groundbreaking ceremony
1957 -- (May 11) Cornerstone ceremony
1957 -- (October 12) Dedication of the Frank Burkett Baird Music Building
1979 -- (Spring) Controversy over the removal of asbestos flakes from Baird Hall
1979 -- (November 9) Cornerstone Ceremony for the new Baird Hall on the North Campus. The cornerstone box, which contained memorabilia and archival records documenting the Music Department's history, was transferred to the new building.
1982 -- The former Baird Hall is renamed Cornelia H. Allen Hall.
---
Original Architect:
Paul Schweikher, New Haven, Connecticut
Original Contractors:
John W. Cowper Co.
Original Size:
43,434 sq. ft.