Charles P. Norton Hall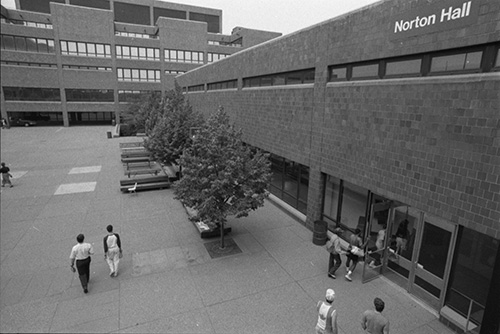 ---
Location:
North
---
Historical Note:
When Norton Hall was first constructed, its primary function was as a food services facility. It has since evolved to house a number of offices providing academic services for UB's students. It also includes a large lecture hall known as the Woldman Theatre and a number of centrally scheduled classrooms.
In 2006, a 6,300 square feet photovoltaic solar array on the roof of Norton Hall was brought online. The system's peak output is 73.5 kilowatts with annual energy production of 73,100-kilowatt hours. This equals about six percent of the building's annual energy needs. The system was funded by a $367,500 grant from the New York State Energy Research and Development Authority (NYSERDA) and through savings from an energy saving project implemented for UB by Chevron Energy Solutions.
Norton Hall has the unusual distinction of being the third UB building to bear Charles P. Norton's name. The first two are located on the South Campus and both served as the student union: Harriman Hall (Norton Union 1933-1962) and Squire Hall (Norton Hall 1962-1986).
---
Namesake:
Charles P. Norton (1858-1923) was a life-long resident of Buffalo. A lawyer who graduated from Harvard, he helped found the Buffalo Law School in 1887, which was assumed into the University of Buffalo in 1891. During his tenure as Chancellor (1905-1920) the College of Arts and Sciences was established and 178 acres were acquired from Erie County and private owners for a campus for the university. Norton endowed the Chancellor's Medal, UB's highest honor. He also bequeathed nearly his entire estate to UB on the condition that within three years, all principle and interest would be applied to the construction of a building for student activities.
Myron L. Woldman received his B.S. from UB's School of Pharmacy on June 12, 1960. During his time at UB, Woldman was active participant in student activities both within the School of Pharmacy and throughout the university at-large.
---
History/Chronology:
1977 -- (June) Construction completed
2006 -- A 6,300 square feet photovoltaic solar array on the roof of Norton Hall is brought online
---
Original Architect:
Sasaki Dawson and DeMay
Construction Cost:
$6.2 million
Original Size:
59,814 gross sq. ft.