UB Stadium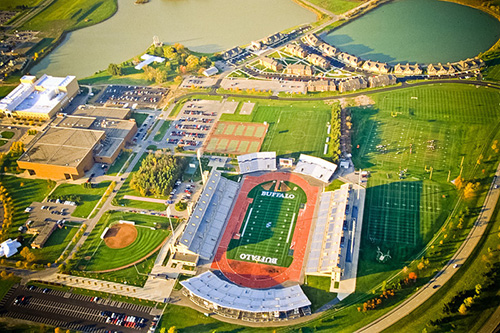 ---
Location:
North
---
Historical Note:
UB Stadium was built for the World University Games, which were held in Buffalo in 1993. It now serves as the main athletic facility for most of the sports teams. From 1985-1993, these teams used "Old" UB Stadium, now known as Kunz Field. When it was built, UB Stadium was New York State's third largest sports complex. The stadium had a 17,000-seat capacity, featured a natural turf field and a world-class track and field facility. Subsequent renovations increased the seating and replaced the natural turf field with artificial turf.
---
History/Chronology:
1991 -- (September 17) Groundbreaking ceremony
1993 -- (June) Construction completed
1993 -- (July) UB Stadium is a major venue for the World University Games. 7,000 athletes from 137 countries come to Buffalo for the 11-day event.
1993 -- (September 4) Grand opening of UB Stadium. Following the ceremony, the UB football team played its inaugural Division 1-AA game against the University of Maine Black Bears. They lost the game 30-27.
1999 -- 14,500 seats are added to the stadium to meet requirements for UB to join the Division 1-A Mid-America Conference. 9,600 seats were added in one curved section in the south endzone near Millersport Highway and 4,900 seats were added to the north endzone in two sections separated by the scoreboard.
2014 -- (Summer) A new artificial playing surface is installed after the old turf was damaged by severe winter storms. The new A-Turf Titan surface would cost nearly $1.1 million.
---
Original Architect:
Hellmuth Obata and Kassabaum, Inc. Sports Facilites Group
Original Contractors:
Lehrer McGovern Bovis inc.
Construction Cost:
$15.2 million
Original Size:
153,163 gross sq. ft.
Renovation Cost:
$2.5 million
Renovation Size:
14,500 seats
In 1999, 14,500 seats were added to UB Stadium's end zones in three sections.
2nd Renovation Contractors:
A-Turf
2nd Renovation Cost:
$1.1 million
A-Turf, a local synthetic surfacing company, installed A-Turf Titan, an artificial playing surface with a number one industry safety rating.