Off-Campus Access for Library Resources
Need to access library resources from off-campus? Always start your research from the University Libraries pages to ensure you are authenticated for access to subscribed databases and other materials, and turn off VPN.
Search for or browse to the resource you want on the list of Databases and click on the link to access via University Libraries subscriptions -- linking from other locations may bypass the required UB authentication. From off campus, you should be prompted to login with your UBIT credentials and for Duo authentication as needed.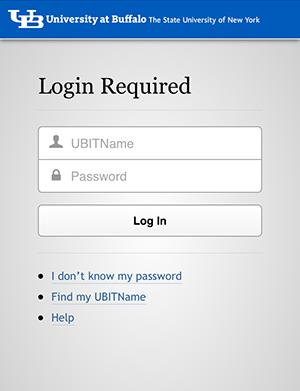 ---
Troubleshooting Remote Access Connection Problems
Helpful Tips
Enable cookies

For many of our databases cookies must be enabled or the database will not work properly.

Virtual Private Network - VPN (Turn VPN OFF)

The University at Buffalo offers a Virtual Private Network (VPN) service. Although the VPN service allows you to establish an encrypted tunnel between your computer and UB's VPN server – it does not provide improved access to library resources! Most of the Libraries' databases use an IP authentication method and some VPN clients will interfere with the EZproxy authentication process. Therefore, if you use the VPN service, it may be necessary to turn VPN OFF while accessing the Libraries' databases, electronic journals, and other subscription-based electronic resources from off the UB computing network through the EZproxy server.

Campus users who need to toggle between their local system and remote desktop may find RD Gateway a better alternative to AnyConnect VPN for establishing the remote desktop connection, if VPN is not otherwise needed. RD Gateway is available for both Windows and Macs.

Possible Browser Issues

Many access issues turn out to be browser problems. Old cookies, cache, and other browser settings can create conflicts with logging into or accessing specific areas within library services. Sometimes software updates in any area can create new and unexpected conflicts. Fortunately, many browser issues can be fixed by clearing cache. It may also be useful to choose a different browser if you experience additional problems.

Please note that Microsoft is discontinuing support for Internet Explorer and many platforms no longer work on IE. IE users are advised to use Microsoft Edge or another browser instead.

Firewalls (Enable ports 80, 8991 and 4433)

If you are attempting to access Libraries' databases, electronic journals, and other subscription-based electronic resources from a home or company computer with firewall or Internet security software installed, it may be interfering with your ability to connect to Libraries' databases. Please temporarily disable your firewall and test whether you can obtain access to these resources. At a minimum, please enable ports 80, 8991 and 4433 in your firewall so information can be exchanged with the Libraries server.
---
Proxy Server Bookmarklet
The proxy bookmarklet lets you reload a web page through the Libraries EZproxy server. If the page you are visiting is one that the library has a subscription to, and you're presently off-campus, you will get immediate access to the resource once you've logged in with your UBITName and password.
How Do You Add It?
There's a different method for each of the three main browsers:
---
How Do You Use It?
Once you've added this bookmark to your web browser, selecting it will attempt to reload your current page through the Libraries Proxy Server. If the page is one that you should be able to access by virtue of being faculty, staff, or student at UB, you'll get access to it. Otherwise, you'll see the same page you started with.
---
Need More Help?
If you continue to experience difficulties accessing Library electronic resources, do not hesitate to submit a request for assistance via our Report a Problem form. If possible, include a link to the resource. Also include a description of your problem and the title if available. When using Everything search, a link to this form can be found in the record for any electronic resource in your search results. Just look for the "Report a problem with this item" link above the "View Online" section.