Ralph C. Epstein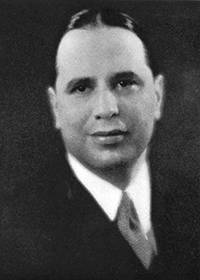 Born:
1899
Death:
1959
Ralph C. Epstein was born in Chicago, Illinois. He did his undergraduate work at the University of Chicago and Columbia University. He received both his masters and doctoral degrees from Harvard University, graduating in 1926.
He joined the faculty of the University of Buffalo in 1926 as a professor in the Economics department. He was dean of the School of Business Administration (later known as the School of Management) from 1935 to 1947, and chairman of the Economics department for over twenty-five years until the time of his death in 1959.
Renowned in his field, Epstein was a member of the American Economic Association, the American Statistical Association, and the National Bureau of Economic Research and a fellow of the Royal Economic Society of England. Over the course of his career, he wrote nine books and more than fifty articles, many of which were published in the Quarterly Journal of Economics, the American Economic Review, and the Political Science Quarterly.
Affiliation(s):
Management
Record Group(s):
27
---
Biographical File Contains: