Olive P. Lester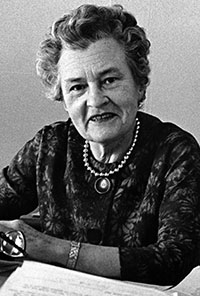 Born:
1903
Death:
1996
Olive Lester was the first woman at UB to be head of an academic department serving as chair of the Department of Psychology from 1954-1964. Lecturing and publishing often on social psychology and personality, Lester not only paved the way for women academics in the College of Arts and Sciences, she also helped to develop the first course in psychology for student nurses in UB's School of Nursing.
She started her long-time dedication to UB when she received her B.S. in psychology in 1924, followed by her M.A. in 1926. While studying for her M.A., Lester taught at the University as an instructor, but left Buffalo in 1926 in order to study at the University of Chicago where she received her Ph.D. in 1931.
That year she returned to Buffalo as an Assistant Professor in the Department of Psychology. In 1939 her title changed to Associate Professor and in 1946 she became a full Professor.
Professionally Lester was involved in many different organizations including:
League of Nursing
New York State Board of Directors
Education fraternities including Phi Beta Kappa and Phi Lambda Theta
Society for the Psychological Study of Social Issues
She was also the first woman president of the American Association of University Professors.
Olive Lester was very well known around the streets of her hometown, the Village of Lancaster, NY. For over 25 years she was a member of the Lancaster Public Library Board of Trustees, even serving as president. She was also very involved in the Lancaster Public Schools as a member of its Adult Education Program committee.
Upon her retirement in May 1974, her close friend, Emily Webster an article in the Reporter that illuminated her life in Lancaster during the golden years:
As a child she knew all the early pleasures of village life. She played sandlot baseball with the Little Leaguers of her day. She pedaled her bicycle over the highways and byways surrounding the village. She played tennis on a court built in the family yard. One of her particular pleasures was taking long walks with her distinguished lawyer father, whose gold-headed cane she still cherishes, and proudly uses, not from necessity by any means, but for the shear joy of possessing it and swinging it along to keep pace with her own brisk stride.
Lester continued throughout her career to be recognized for contributions. She was awarded three citations for outstanding teaching by the School of Nursing. In 1971 she was the recipient of an award from the College of Arts and Sciences. She was recognized for her great contributions to the field of Psychology and to the University community when she received the Distinguished Alumni Award in 1973
Olive Lester was interviewed by Jenny Peterzell on April 12, 1978 for the University Archives' oral history project. During the interview, Lester discusses her career in academe and her experience working in a male-dominated field.
Affiliation(s):
Psychology
Record Group(s):
22
---
Biographical File Contains: