Adeline Levine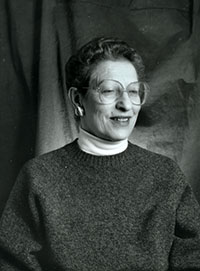 Born:
1925
Death:
2015
Born in 1925 in Geneva, New York, Adeline "Addie" Gordon Levine, studied at Hobart and William Smith Colleges and the Edward J. Meyer Memorial Hospital School of Nursing, where she became a registered nurse in 1948. Adeline met her husband, Murray Levine, while working in the tuberculosis/neuropsychiatry ward at the Veterans Hospital in Montrose, New Jersey. As a mother of two young children Adeline returned to school and graduated with a bachelor's degree from Beaver College. She then earned her Ph.D. in sociology from Yale University.

Adeline Levine became a faculty member in the Department of Sociology at the University at Buffalo in 1968. In 1978 she visited the Love Canal days after it was declared a national disaster. After speaking with local residents and government officials, Levine was motivated to research the psychosocial impact of toxic waste dump site on the local community. Her published book, Love Canal: Science, Politics, and People (1982) examined the crisis at Love Canal by following the development of local community organizations and scrutinizing the government's response. Because of her work on the Love Canal disaster, Levine became a leader in the field of environmental sociology and community responses to environmental disasters. She wrote, presented, and consulted nationally and internationally.

Adeline Levine retired from the University at Buffalo in 1990. She continued to write, speak, and volunteer in the community, especially for organizations that supported education. For her professional contributions, Adeline Levine was named Professor Emeritus of the University at Buffalo. She was the recipient of numerous honorary degrees and awards, including those from Beaver College, the American Sociological Association, and the National Organization for Women.
Affiliation(s):
Sociology
Record Group(s):
22
---
Biographical File Contains: