Janet Osteryoung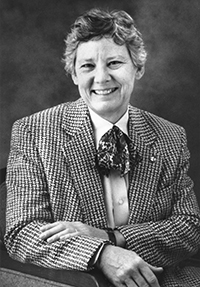 Death:
2021
Janet Osteryoung [Jones] contributed greatly to the development of electroanalytical chemistry. Of particularly importance was her work on Square Wave Voltammetry.
Osteryoung received her bachelors degree from Swarthmore College in 1961 and completed her Ph.D. at the California Institute of Technology (CIT) in 1967. While at CIT, she was a National Science Foundation Graduate Fellow and a Woodrow Wilson Fellow. Her graduate research explored the role of ligand bridging in charge transfer reactions at electrodes.
Before coming to UB, Osteryoung taught in Department of Chemistry at Montana State University and the Department of Civil Engineering and Microbiology of Colorado State University. From 1977 to 1978 she served as the Program Director for Chemical Analysis at the National Science Foundation.
She came to UB's Department of Chemistry in 1979 as an Associate Professor. In 1982 she was promoted to full Professor.
In 1992, she moved to the Chemistry Department at North Carolina State University as Head. She held the prestigious position of Director of the Chemistry Division at the National Science Foundation. She served in this capacity beginning in 1994.
Osteryoung's awards and citations are voluminous and include:
1984 -- Elected a fellow of the American Association for the Advancement of Science (AAAS)
1985 -- Recipient of a Guggenheim Fellowship for the 1985-1986 academic year. Osteryoung spent her fellowship at the University of Southampton studying the fundamental properties of solid electrodes
1986 -- Honorary Fulbright Fellow
1987 -- Awarded the Garvan Medal of the American Chemical Society
1990 --Winner of the Anachem Award, one of analytical chemistry's olds and most prestigious awards, presented by the Association of Analytical Chemists of Detroit. She was only the third woman to receive the award.Named honorary member by Iota Sigma Pi, a national honor society for women in chemistry.
1992 -- Given the Jacob F. Schoellkopf medal by the WNY section of the ACS. She is the first woman in the 62-year history of the award to receive the medal
1996 -- Winner of the American Chemical Society Division of Analytical Chemistry Award in Electrochemistry
1998 -- Recipient of the Pittsburgh Analytical Chemistry Award from the Society for Analytical Chemists of Pittsburgh
1999 -- Receives the Reilley Award in Electroanalytical Chemistry, administered by the Society of Electroanalytical Chemistry (SEAC)
---
A sampling of Osteryoung's extensive professional membership and service:
She was a founding member of the Society of Electroanalytical Chemistry, having served as its President in 1986
She served as the Associate Editor of Electochimica Acta as well as on the editorial boards of a number of other scholarly journals
She also served as Chair of the American Chemical Society Division of Analytical Chemistry.
Affiliation(s):
Chemistry
Record Group(s):
20
---
Biographical File Contains: